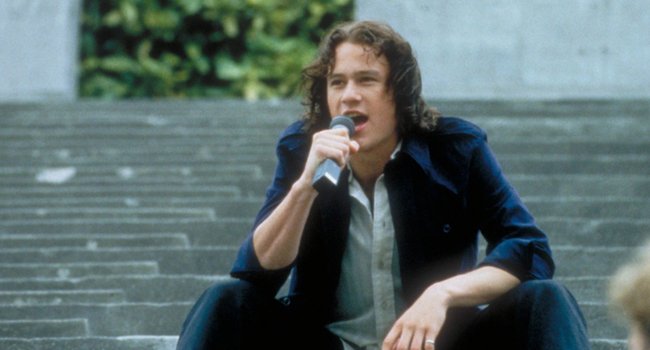 The 8 Best Declarations of Love in Cinema
Who doesn't love a romance? Watching characters put everything on the line for love is thrilling and, almost always, a thoroughly satisfying moment in a movie. Here are eight of the best such moments in film history:
8) 10 Things I Hate About You
Heath Ledger's breakthrough film is a mainstay of the teen sleepover movie. We see every high schooler's dream/worst nightmare played out here, as Patrick (Ledger) makes a big fuss in a very public way:
7) Love Actually
Ignore the fact that the recording sounds nothing like a group of carollers, and stop asking BUT WHAT IF HE HAD ANSWERED THE DOOR? And stop feeling sorry for Keira Knightley's boyfriend because he looks lovely. If you ignore those aspects, this one is a stunner – and a bit of a tearjerker too:
6) The Wedding Singer
In Adam Sandler's touch-and-go oeuvre, The Wedding Singer stands out as a sweet, funny homage to 80s pop and the simple love story. What is better than a heartfelt love-song to declare your lifelong love?
5) The Philadelphia Story
Some of the greatest fast-paced screwball comedies are from the era of black and white movies, and this is one of the greats. Tracy, a socialite played by Katharine Hepburn, is engaged to the nouveau-riche George. However, her ex-husband Dexter (Cary Grant) is still in love with her… and she, secretly, is still in love with him. They wait until the last minute to let each other know, though:
4) Four Weddings and a Funeral
This classic of British comedy has all the ingredients of a great film: unrequited love, hilarious over-sleeping, a tear-jerking funeral, and missed connections. Sounds… funny? Romantic? It somehow manages both. Some people prefer the earlier muddled declaration on the Southbank, but the final scene is truly satisfying as, both single and in the same country, Charles (Hugh Grant) and Carrie (Andie MacDowell) at last tell each other how they feel:
3) When Harry Met Sally
One of the great rom-coms of our time, When Harry Met Sally is probably the longest-played game of will-they won't-they portrayed on film. It takes them over 12 years from first meeting to finally getting together, but when they do, it's an unforgettable moment:
2) Jerry Maguire
Quotes from this film pervade popular culture ("You had me at hello", "Show me the money", "I won't let you get rid of me", "That's more than a dress, that's an Audrey Hepburn movie"). And here's one of the best-loved scenes:
1) Breakfast at Tiffany's
Holly Golightly, the original "it" girl, is both a philosopher and an idiot when it comes to love. After spending the whole film searching for a millionaire to marry, despite herself she falls for Paul, the penniless writer who moves in upstairs: