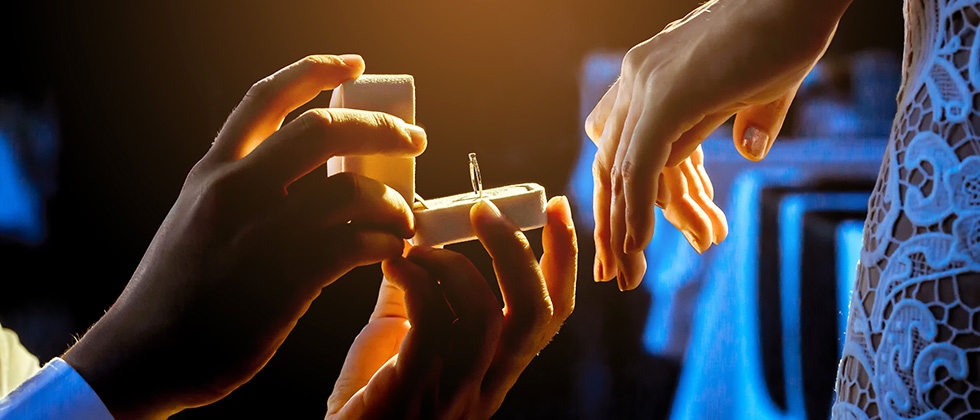 Six unforgettable proposals
If you're stuck for how to make your proposal an unforgettable experience, here are six ideas to set you on the right path the marriage.
The marriage proposal – when done right – should be something to remember for a lifetime. Unfortunately, when done wrong, it can have the same affect. This is why it can be so nerve racking choosing the right set-up. And why a lot of men probably wish for the days when they simply took their girlfriend's dad down the pub, bought him a few pints and respectfully asked if they could marry his daughter.
If you're stuck for how to pop the question then we propose one of these five ideas:
Repeat history
A simple way to make your proposal truly memorable is to make the date on which you do it special. The day your partner's dad proposed to their mum means there will be double the celebration in years to come. It not only shows you've put thought into the occasion, but that you also know how important their relationship with their parents is.
Alternatively, you could choose Christmas Day or a birthday, making it doubly special and meaning that in years to come those days are even more important. Valentine's Day is a good day to choose to add to the element of surprise. Your loved one won't be made suspicious by any romantic gestures, and you'll catch them by surprise when you take the ring out. Plus, if you don't have a great head for dates, proposing on a special day should help you remember the anniversary in future years.
Go public
How about asking your loved one to marry you at their favourite sports stadium? Many local teams will be happy to help you out by putting something on the score board, or over the Tannoy. This can also sometimes work with your favourite band if you get in touch with them in advance – but that really depends on how charitable the band are feeling on the night!
Or, how about a more ordinary public place, such as waiting in line for the bus? You'll almost certainly get cheers from everyone else waiting, though if your other half is a die-hard romantic, this might not be the option for you.
Hide and seek
For the ultimate cute factor, you can hide the engagement ring somewhere for your partner to discover. This could be hidden as part of a treasure hunt you organise, or simply in a (safe) place on one of your favourite walks for you to 'find'. And, there is the often parodied idea of putting it in the recipient's food, or at the bottom of their Champagne glass. This can be a brilliant surprise, but make sure it's visible; otherwise they might get a nasty surprise if they swallow it.
Great location
If you'd prefer your marriage proposal to be a private affair, then the beautiful backdrop is a simple way to pop the question. This could be anywhere you think is beautiful, such as the top of the Eiffel Tower, beneath the Angel of the North, or on a Cornish beach. This will, in turn, become a special place for you and your partner, for the rest of your lives together.

First date
Harness nostalgia by recreating your first date together. Not only will it bring back some lovely memories, but it'll be truly unique to you both. You can explain how you felt leaving that date as friends, and how wonderful you'll feel leaving this date engaged.
Go classic
If the idea of something grandiose turns you cold, a simple classic approach is always a winner. Whether you scatter your home with rose petals and cook a delicious meal, or you hand deliver flowers to work and propose there and then, you don't need to be flashy to show you love someone.
When it comes down to it, it's what you're asking that should take centre stage, nothing else. And with a little planning and preparation you'll be able to focus on asking the question. The most important thing is that you plan something that makes you both comfortable, and you should get the rapturous 'Yes!' you're looking for.
A few guidelines:
• Don't get so caught up in planning that you forget why you're proposing
• Don't over complicate things – just because something is complicated or expensive doesn't mean it's romantic
• Take into account your partner's likes and dislikes. If they're really shy, asking them using the score board at your local rugby game might embarrass them more than enrapture them.
• Don't propose at a wedding, as you'll just look like you're stealing the bride and groom's thunder
• If you have doubt in your mind, don't do it