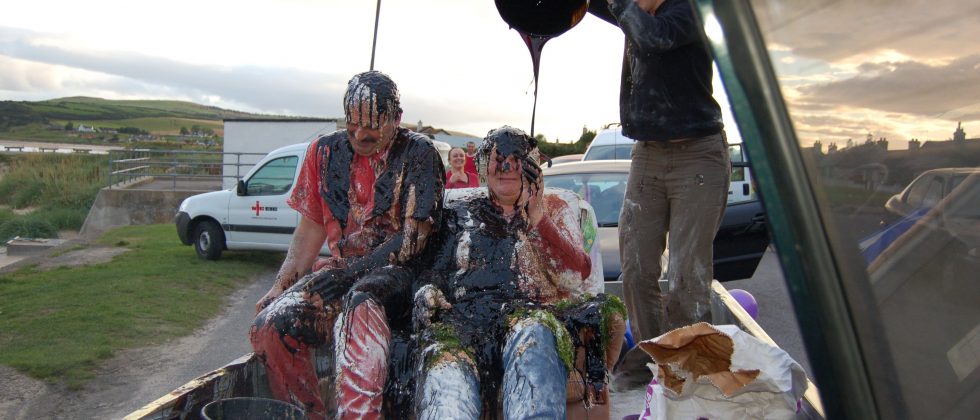 Weird and wonderful wedding traditions from around the world
A number of cultures and religions have their own way of marking a wedding day – and many brides and grooms at home or overseas have more than just an embarrassing best man speech to worry about…
Blackening the bride
The blackening of the bride is a Scottish tradition that takes the pre-wedding humiliation often found on stag and hen parties to the extreme. The bride is paraded through the town and decorated with a concoction of rubbish, baked beans, eggs and fish.
Foot whipping
Before a South Korean groom can look forward to his wedding night, it is traditional that he receives a beating from his groomsmen. Foot whipping – also known as 'bastinado' or 'falaka' – involves the beating of a groom's bare feet with a cane or fish and is said to be a test of the groom's strength and character.
Hindu wedding exchange
In most wedding ceremonies, rings are placed on fingers during the exchange of vows – but Hindu couples take a very different approach. Hindu brides traditionally wear their wedding ring on their left foot.
Kiss the groom
This innovative Danish tradition ensures everyone is feeling the love on the big day. At the reception if the bride leaves the table, every female member of the bridal party will rush to kiss the groom. The bride isn't left out either – the male members of the party kiss the bride when the groom nips to the bar or the loo.
Jumping the broom
The jumping of the broom originates from America's Deep South and has a place in history. During slavery, African-American couples were not permitted to get married and the jumping of the broom was a custom used by slaves in place of a wedding ceremony. Many modern African-Americans jump the broom as a tribute to generations that have passed.
Housebound honeymooners
It's not just the wedding day itself that has some strange customs – Indonesian honeymooners are confined to their homes for three days following the ceremony, even if this means not going to the toilet. This honeymoon house arrest is believed to produce a happy marriage full of healthy babies.
Weeping wedding party
For many brides, wedding day preparation can be emotionally draining, but in areas of China this emotional prep is taken one step further. A month before the big day, a bride will weep for one hour a day. She is later joined by other members of the bridal party to create a celebratory 'weeping song'.
Stealing more than hearts
One of the traditional Indian games played to celebrate the couple's union is the stealing of the groom's shoes. The groom's family have to do their best to keep the shoes from falling into the mitts of the bride's family, and the groom ultimately has to pay a ransom to get them back.
Hand-me-down handkerchief
Traditionally, every family in Belgium has a handkerchief that is handed down and embroidered by brides from generation to generation.