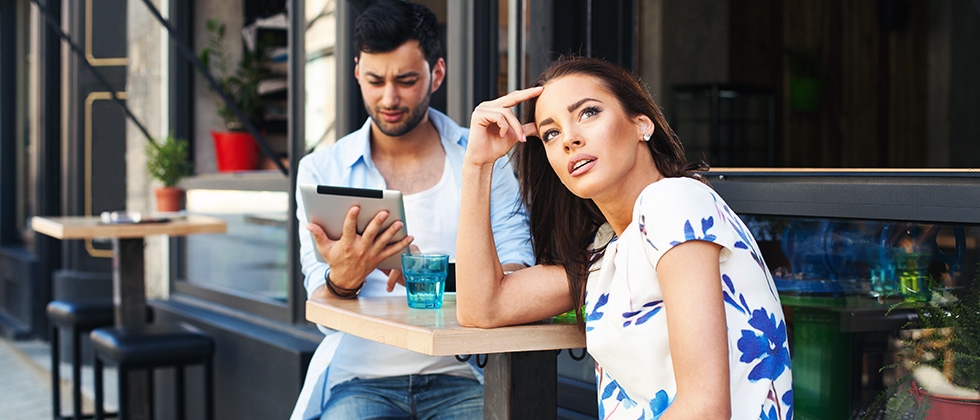 10 golden rules for avoiding first date disaster
The mixture of the unknown and expectations is what makes first dates so nerve-racking. These factors are also what can turn a first date into an unmitigated disaster. Here are ten golden first-date rules to help you avoid that sinking feeling on your way home…
1. Listen to your gut
If you've talked on the phone beforehand and things didn't feel right, trust your gut feel. If you can't even have a normal phone conversation with this person, how are you going to sit through dinner or drinks together? No one needs dating practice or a night out so much they should go on a date with someone isn't right.
2. Make it happen
When you're dating online, it's all too easy to end up in a virtual relationship with someone. You text, call and email each other all the time – but you still haven't met. You feel like you know this person, and may even start to feel like you're in a relationship. Unfortunately, this chemistry doesn't always translate offline and you could be left feeling you've wasted a lot of time and emotion on the person.
3. Leave your phone in your bag/pocket
Having your phone out on the table, or even texting during a date, gives off the impression that you're just not interested and are waiting for something better to come along. Leave your phone alone and give your date the focus they deserve. And if you're really more interested in what your next text says, perhaps it's time to wrap up the date.
4. Stay safe
It's simple really; tell a friend where you're going, don't get in your date's car, don't meet at their house and instead meet somewhere you know. Taking risks will at best leave you feeling uncomfortable, and at worst…well, that's not worth dwelling on. Note: this applies to all dates – just because you met someone in a bar doesn't make them any different to someone you met online.
5. Swot up
You owe it to your date to do a little revision beforehand. Re-read their profile and go over old emails to make sure you can ask relevant questions, and that you don't ask questions you've already asked. There's nothing more boring than being asked the same question more than once, and yet little more flattering that someone remembering an important detail about you. One caveat though – don't do too much research. Recounting things you found out about your date via Google might come across as a little creepy.
6. Pick comfortable surroundings
Whether you're in charge of the date location or not, make sure it's somewhere you know (or at least in an area you know), and preferably somewhere you like. You'll feel more relaxed which will shine through on your date. So take enough time to work out a good idea for the first date.
7. Lay off the booze
Alcohol may be a social lubricant but on a first date it's not a good idea. Apart from the obvious safety aspects, it can loosen your tongue just a little bit too much. Even if your date is drinking the same amount as you, don't assume that makes it okay. Everyone has different reactions and attitudes towards alcohol and they might be severely unimpressed when you stumble on the way to the loo or mention your nasty ex one too many times.
8. Be on time
An easy one this, just be on time for your date. It's courteous and will leave you feeling less stressed. If you're perennially late, factor in extra time and remember that it's always better to be early than late.
9. Make it early in the week
The later in the week you arrange your date, the more pressure there will be to make it a night of it. Rather than dinner and drinks on a Friday, how about an after work coffee on a Monday? This will create much less pressure, and will be far easier to escape from if things don't go so well.
10. Leave it open at the end
Unless it's very clear you both want to see each other again, don't act as if you're closing a business deal and pressure your date into agreeing to see you again. They might not want to or at that point they might not be sure and your high pressure sales technique could put them off. If you want to make it clear you'd like to see your date again, end with something like 'It'd be great to see you again, give me a call if you like'. The fact is, if they want to see you, they'll call. And if they don't, move onto your next match. At least you won't have had time to get too attached (or you won't have if you've followed rule #2!)
How it works
Your search for a great relationship has never been easier with groundbreaking overhaul of the eharmony you know and trust.