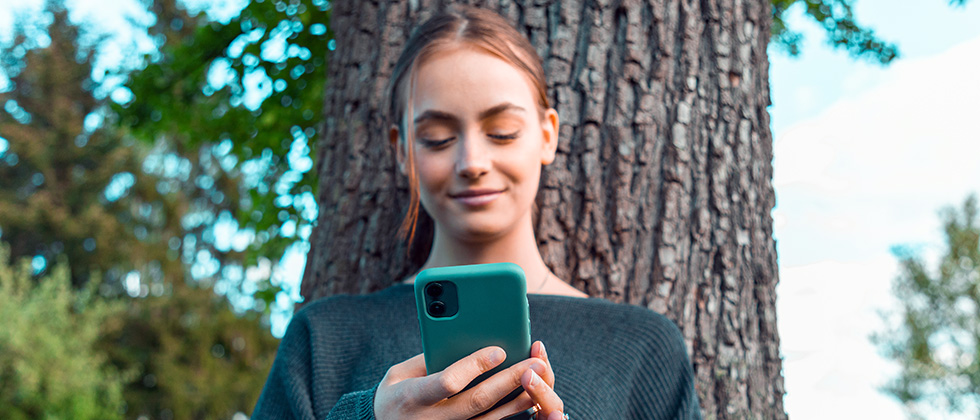 5 hot topics of conversation for your online messages
Stuck for words when it comes to online messaging or tired of asking your matches the same questions? Try some of the hot topics below to liven up your emails.
So, you've seen someone you like online and you're ready to send your first message. But what should you say? And how can you keep the conversation flowing? Here are 5 great topics of conversation for your online messages
eharmony's multiple choice questions are a useful way of deciding whether your matches have potential, but messaging your matches freely can sometimes seem a little daunting. If you've sent a few questions already, you'll have already established that you want to know more about each other so this is the perfect opportunity to let your personality shine, while keeping things light and conversational.
1. Your passions
Talking about the things you just can't live without brings your messages to life, showing that you're interesting and confident. You've shared your passions on your profile but now's your chance to really elaborate on why you love what you do. Whether it's trips to the theatre, salsa dancing or taking a photography course, what makes you tick should excite you and your match.
You should both understand that not only are shared passions complementary but differences in interests can make the early stages of a relationship equally as interesting. Do you love walks on the beach but your match has a passion for live music? This could be the perfect opportunity to try new, different activities while getting to know someone new.
2. Your life ambitions
Help your match to find out more about you by telling them where you see yourself in 10 years time. Will you have a dream job or maybe you'll have built a family of your own? Thinking about your aspirations is a great self-evaluation task and also shows your commitment to achieving those goals. If your relationship blossoms, it's good to know that your ambitions complement each other.
It's okay too if you don't know exactly what you want. For some, having a spontaneous approach to life and living for the moment is just as endearing.
3. Your nearest and dearest
The people you choose to surround yourself with say a lot about you as a person. Not only do your family and friends influence the way you behave but talking about them emphasises your priorities.
Tell your match about your loved ones and your favourite things to do with these people. Do you have a relative who is particularly influential to you or does one of your friends have an interesting job? Talking about those you love can indicate how you view other people's strengths, weaknesses and how you interact socially.
4. Describe an ideal weekend
We're all guilty of spending too much time focused on our careers, but how you spend your spare time can reveal a lot about your energy levels and motivations.
Regardless of what you usually do at the weekend, think about what you'd do if your usual commitments were taken away. Tell your match where you'd go and who you'd go with. Would you love to pack the car and head off for a weekend in the Lake District or is your ideal Saturday afternoon spent at a local football match? Hopefully, you'll stimulate your match's imagination and have them excited to spend a perfect weekend with you.
5. Your match
Open messages allow you to tell your match all about yourself, to help them learn more about your personality. However, make sure you take the opportunity to ask questions too – you wouldn't expect to meet face-to-face and talk constantly about yourself. It's important to let your messages flow like a conversation and discussing broad topics should help to avoid awkward, probing questions. If what your match says intrigues you to find out more, it could be time to move to the next stage!