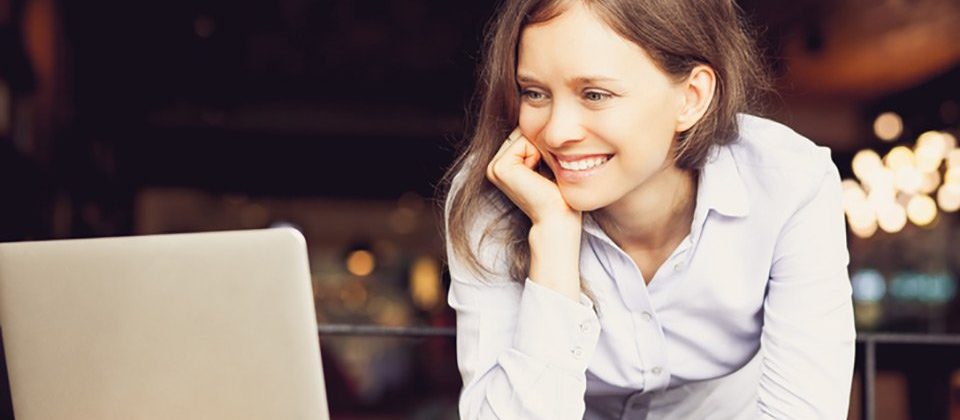 5 tips for Skyping your match
Skyping is a great solution if you can't make diary dates work with a match, or if you're dating someone who lives far away. While not a traditional date, video chat can still feel daunting. Here's our expert advice on how to have a perfect Skype date!
1. Sort out your tech
There's nothing more frustrating (or embarrassing) than settling down to chat to someone online only to find your laptop has no battery or your sound keeps dropping out. Give yourself plenty of time before skyping set up your computer and test call a friend. If you're worried about your connection make sure you've got nobody else using the internet at the same time, and remember that you can connect directly to your router to get a more stable connection if you usually use WiFi.
2. Choose your location carefully
Make sure you're seated somewhere comfy, and with a good surface to rest your laptop on, if you're using one. You might also want to make sure your webcam is directed at your best angle! Plus, if you live with other people you probably want to make sure that they won't be walking around in the background. Finally, make sure there isn't anything embarrassing behind you that your match will be able to see (Underwear hanging up to dry? 50 Shades of Grey on the bookshelf?).
3. Look smart
While this isn't a formal date, it's worth getting out of your tracksuit and into something presentable. Jeans, a T-shirt and freshly-brushed hair is just fine – don't go overboard – but remember you're looking to create a great first impression.
4. Make time for them
There's no point fixing a time to chat with your match when you know you'll only have 15 minutes before you have people coming round. Make time for your Skype buddy – who knows, the online date could go on for hours if you hit it off!
5. Don't get distracted
Treat chatting on Skype just like chatting in person. If you were sitting in front of someone you probably wouldn't be checking Facebook, texting or browsing Amazon, so don't do it when you're chatting online either. They deserve your full attention – think how embarrassing it might be if they ask you a question and you have to ask them to repeat it because you were buying Breaking Bad DVDs online.
6. Stay safe
The same rules apply on a Skype date as they do on a normal date. Don't give out any personal information, and if the other person in any way makes you feel uncomfortable you're within your rights to end the call and remove them from your contacts list. It can be easy to get lulled into a false sense of security but remember that chatting online does not equal a relationship – your safety is the most important thing.