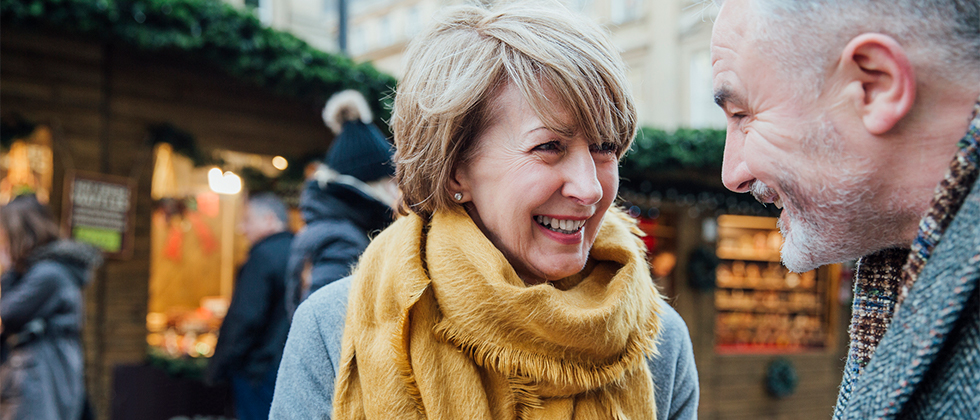 Dating after bereavement: the first steps
It is devastating to lose a partner and it is important to take as much time as you need to grieve the loss. Time is a great healer and there will come a point when you start looking to the future and want to date again. Here are some suggestions to help with those important first steps.
Dating after bereavement can be daunting, but if you feel ready to start getting out there, we're here to help. Here are a few suggestions for taking the first steps
According to Elisabeth Kubler-Ross in her book on death and dying, there are five stages to grief- denial, anger, bargaining, depression and acceptance. Not everyone will go through them in the same order or even experience them all – grief is a highly individual process. The important thing to remember is that only you can know when you feel ready to move on and date again and although others may advise you to do it sooner you need to trust your own heart. When you are ready here are some suggestions for the first steps in the process.
Take it slowly
There's no rush. When you start noticing that your thoughts are turning more towards the future than dwelling in the past you could start by browsing profiles of people who you think might be suitable matches. If even this innocent activity makes you feel guilty or disloyal then it may be that you have not fully accepted your loss yet. In the stages of grief acceptance is the one which is usually the key to being able to move on and create a life with someone else. It is at this stage that people start being able think of their deceased partner with gratitude for the years they had together rather than anger, guilt or regret. Acceptance allows people to appreciate that although the relationship wasn't perfect (no relationships are) they did the best they could at the time – if they had known their partner was going to die they may have done differently.
Talk it through
When the time comes it can be useful to talk to other people who were also close to your partner about the prospect of you dating again. These conversations can be very useful as they will give you a chance to talk about the person who died and discover how others are feeling about it – this is especially important if there are parents, children or grandchildren involved. You may find people are surprisingly supportive and encouraging and this can help you to move forward because you won't be worried about upsetting other people.
Sometimes widowed people don't tell relatives until after they have already met a prospective new partner and then get hurt and upset because they don't get support. This often isn't because people object to you having a new partner so much as them believing that you haven't taken their feelings into consideration. Bereavement leaves people feeling very fragile and vulnerable especially children who lose a parent.
There is a fine balance to be struck between being open and considerate and at the same time not allowing other people's feelings to dictate your life. Talking to them before you do anything on the dating front will at least prepare them for the possibility of you being with someone else even if they don't like the idea very much.
Don't look for a replacement model
No-one will ever be able to replace your lost partner – they were unique and so was your relationship with them. When you are thinking about what you want from a new relationship try to be forward thinking – look at what you want and need in your life now and in the years to come. Are there things that didn't happen in your previous relationship that you would like to experience? Maybe you want to travel more or learn to dance. Whatever it is now is the time to look forward and fulfil those dreams and ambitions so you don't get to the end of your life wishing that you had experienced more.
You can change your mind
You may start the dating process and realise that you are not quite ready – that is ok. Give yourself more time, keep talking to friends and family and maybe try again in a few months time. Sometimes we get stuck in grief because there are unresolved issues that we can't talk to family or friends about. It you feel you are stuck and unable to move on it may be worth contacting a bereavement counselling service such as Cruse (helpline 0844 477 940) where you can talk to someone in confidence who has also been bereaved and who will be able to offer vital support and understanding.
How it works
Your search for a great relationship has never been easier with groundbreaking overhaul of the eharmony you know and trust.