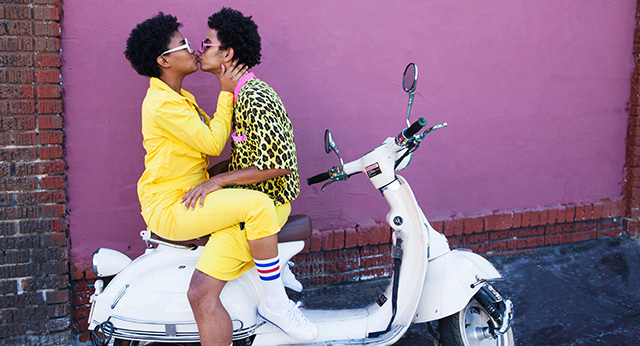 Embracing the C-word: 5 tips to improve dating confidence
by Melanie Schilling
-
September 20, 2021
Two-thirds of Australian singles believe they'd be better at dating if they had more confidence. So, just how do they go about boosting their flagging self-esteem?
You've probably heard that the pandemic has created a psychological ripple effect, also known as as 'the loneliness epidemic'. But are you aware of the lesser-known impact, the so-called 'crisis of confidence'?
All over the world, people feel unsure about their skills and capabilities, when previously they were flying high. People in leadership roles wonder if they really have what it takes to run a business; elite athletes question their capacity to compete if they can't train and parents struggle with home-schooling. Usually gregarious types doubt their capacity to contribute meaningfully to conversations, let alone dating.
Dating, like any form of social behaviour, requires practice and when your dating muscle has been lying dormant for a while, it starts to wither.
Consider the current reality for Aussies:
Two thirds (64%) of singles believe they'd be more successful at dating if they were more confident
One in five (21%) Aussies say a lack of confidence in their appearance has caused hesitations before entering a relationship; and a third (34%) of Australians believe they'd be more successful at dating if they lost weight
One in three (32%) people gain confidence from being around friends and family, and more than half (60%) from feeling healthy, both of which have been limited due to Covid19
It seems that, along with covid, lack of confidence is really impacting the Aussie dating scene.
So, what can you do to bolster your dating confidence get ready for action?
Prepare yourself emotionally – remember your post-covid dating mindset, your top three strengths and your clear vision for what you want
Prepare your conversation – have a few stories in your memory bank, stories that highlight your best qualities. Develop a set of questions to get your date talking about themselves, this is a great way to learn about them and their values
Prepare yourself practically – make sure you set up your device so that the camera is at your eye level, face the light source (don't have the light behind you as it will turn you into a silhouette), ensure no interruptions from other apps or programs and take care to set up your background
Reset Your Mindset Treat the lockdown experience as your opportunity to draw a line in the sand and say: 'This is a new beginning in my dating life'. You can make the choice to do things differently in your next chapter. Got baggage? Great, leave it behind. Constantly date the same people in different clothing? Fantastic, that's an old habit you'll leave in the pre-covid dating pile. Scared of commitment? Ok, that was the old you, time for a reset. Design your post-Covid dating behaviour in a way that serves you far better so you can find a meaningful, happy relationship.
Play To Your Strengths If you're like most of us, you're probably quick to list your weaknesses and failures. Carrying a few extra covid kilos? Me too. Any wonder a third of single Aussies believe they would feel more prepared for the dating world if they lost weight. The first thing I'd say to you is go easy on yourself! You're not alone, we are all in the same boat. Secondly, shift your focus. Move your attention away from what you don't have – your ideal body shape (scarcity mindset) to what you do have (abundance mindset). Jot down three of your best personality traits (kindness, humour or adventurousness for instance,) along with one physical characteristic you like. Keep this note as a confidence tool for dating[RL1] .
Clarify Your Vision One of the most common reasons I see dating connections fail is unrealistic expectations. As this is your *new* dating chapter, start with a fresh list of what you want in a partner and relationship. Start with internal characteristics (e.g. family focused, honest, adventurous) and once you get really clear on these, add in the external characteristics (e.g. tall, dark, handsome – yes, I still hear this as criteria!) Also, make sure you are honest with yourself about what you WANT from your dating experience – what are your dating goals? Casual connections, friendship or long term love? Begin with the end in mind.
Practise, practise, practise Dating is a skill that requires practice. Most of us have been cooped up inside with little opportunity for flirty interactions. It's time to simu-date! Set up a few 'practice dates' with friends or even family members to get you back in the mode of conducting small talk, swapping stories, listening for cues about values and navigating social interaction (if it's a family member, I don't recommend leaning in for a kiss). The important thing here is that you get to practise your social skills in a 'low stakes environment' so if you mess up or make a fool of yourself it doesn't matter.
Get Camera Ready – One of the most exciting things to come out of lockdown for the dating world is video dating. As you know, eharmony offers a Video Date service and this is the ideal way to ease yourself back into dating, without leaving home. To set yourself up for success, try these tips before your next video date:
This is your time to find some courage, step into your confidence and start exploring your next, great relationship. And you deserve it.
---