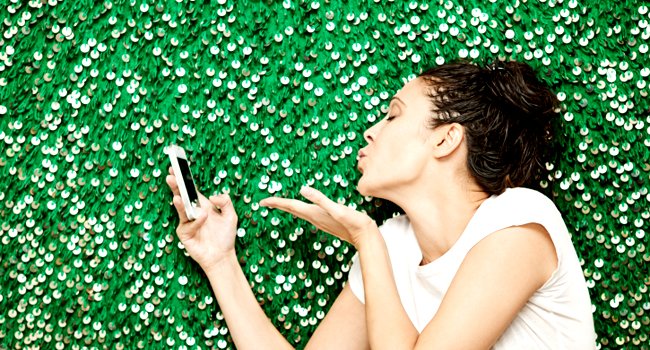 Ever had a 'virtual' date?
Taking a relationship offline and into the real world can feel like a pretty big step. But you don't have to go straight from sending messages to sitting opposite each other - there is a happy middle step and it's called video! Whether you're using Skype or FaceTime, it's a great way to find out if you're really suited before you make the plunge, as well as taking the edge off your first official date.
Why should you have a virtual date?
Dating sites like eHarmony are great for connecting like-minded strangers and giving them the tools to fall in love. But, at the end of the day, they are still strangers. Meeting up for a video chat not only proves that they are who they say they are, but you can get the conversation-ball rolling before your first physical meeting.
Be prepared
There's nothing worse than planning a video date only to spend the first ten minutes trying to work out why you can't hear each other. Test out your speakers, your microphone, and that your internet is connected properly – Skype even has a handy 'test call' for this. It all sounds like common sense, but you'll be surprised how often it's the little things that thwart you in your road to digital date success. Next you might want to think about getting your lighting right and finding the perfect angle well in advance too – the last thing you want is a double chin caused by a bad angle.
Make it special
Even though it's an online date, it's still important to get excited about it and make an effort. Write it into your diary like you would a real life one and have a think about what you fancy wearing. You might not be splashing out on an expensive dinner, or wearing your Sunday best, but this could still be the first time you chat to the love of your life – so make sure it's memorable! That also means that – as tempting as it is – no phones, Facebook stalking or Pinteresting allowed. It's important to give your date your full attention – so if you wouldn't do it on a real date, you shouldn't on a video one either.
3 tips for your virtual date
Feeling ready to tackle digital dating? Here's three tips to help you while you're on your call:
How it works
Your search for a great relationship has never been easier with groundbreaking overhaul of the eharmony you know and trust.
Subtle is a little harder to achieve in a video than it is in real life. So even though you can't touch their arm, you can smile if you're enjoying yourself – it's a universal positive signal and no matter how slow your connection, it's hard to miss.
It's the one type of date where you're allowed to refer to a list. So write down what you'd like to know about them or anything you want to talk about so if you're faced with some empty silence, you're prepared.
There's a chance they might ask for a virtual tour, so it's worth making sure you've had a little tidy before you start. And the same goes for your clothes too – even if you don't plan to show your bottom half, you don't want to be caught out wearing a dress shirt and pyjama bottom combo!
Have you tried video dating? We want to hear your tips too!