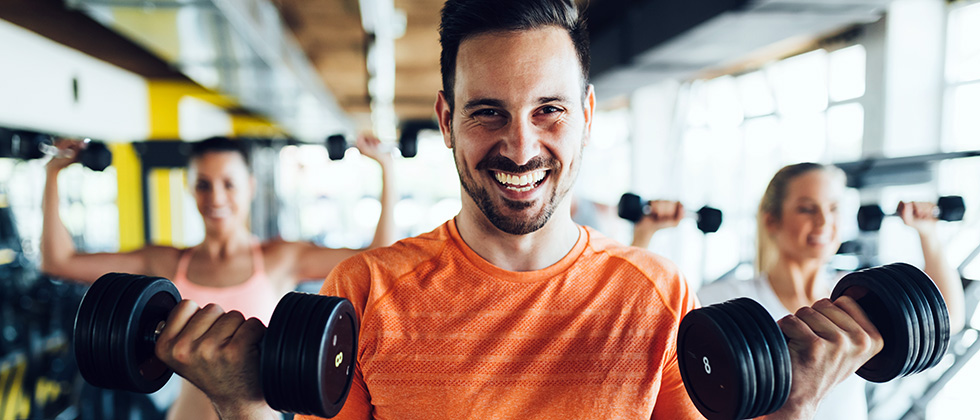 Health & fitness dating: How to find like-minded fit singles
Are you a health and fitness fanatic looking for love? Here's how to find like-minded fit singles online – and why couples that exercise together, stay together
When you're already in a committed relationship with your gym, it can be hard to find someone worth sacrificing barre class for. Gym enthusiasts generally find they get on best with fit singles that share their interest. While shared passions aren't the most important factor in whether a relationship works or not (shared values and personality traits make more difference long-term) they're still desirable. What could be better than a girl or boyfriend that's also your gym buddy?
Meeting fit singles online
While you might find love by the leg machine, the gym floor isn't always the most appropriate place to flirt. You're there to focus on your workout, not your love life after all. And let's be honest; you probably won't be looking your very best after an intense 20 minutes on the treadmill.
One of the best things about looking for love online is that you can actively seek out fit singles that share your interests. And exercise is one of the most popular interests for singles dating online. A recent eharmony study found that exercise is the most attractive interest that women can list on their dating profile and the second most attractive interest for men to mention.
When it comes to specific sports; men that list rugby, tennis or swimming on their profile are deemed the most attractive. Women that are interested in football, swimming or military boot-camp exercise classes score highest with the opposite sex.
Health, fitness and dating
Whether you're a yoga devotee or like to let off steam in the boxing ring, you'll probably be aware of the multiple benefits of exercise. Not only does it keep you in good shape, it can also have a dramatic effect on your mindset. Research has shown that regular physical exercise can also boost your self-esteem, mood, sleep quality and energy. It's great news if you're looking for fit singles ready for a meaningful relationship.
Studies have also shown that some symptoms of exercise – sweaty hands, a racing pulse, and shortness of breath – mirror the symptoms of romantic attraction. It's surprisingly easy for humans to mistake the two, which is why couples tend to form closer bonds, and feel more attracted to one another, on active dates. Co-ordinating your actions during your workout could also bring you together – try matching walking pace or lifting weights in the same rhythm to see the effect mimicry can have.
Working out in a relationship
Of course, you don't have to be looking for fit singles to reap the benefits of being active with your other half. Couples that share a passion for exercise often have a relationship that's in great shape! Long-term couples with commitments find time at the gym together is guaranteed quality time, away from work or children. Taking new classes together can also strengthen your bond. Trying something new releases a flood of endorphins that will help you see your partner in a more positive light.
How it works
Your search for a great relationship has never been easier with groundbreaking overhaul of the eharmony you know and trust.
Exercising with your partner is good for your workouts too. It's virtually impossible to skip a session when you know you're letting down someone you love too. And it can bring out your competitive side, so you'll work harder than you would alone.