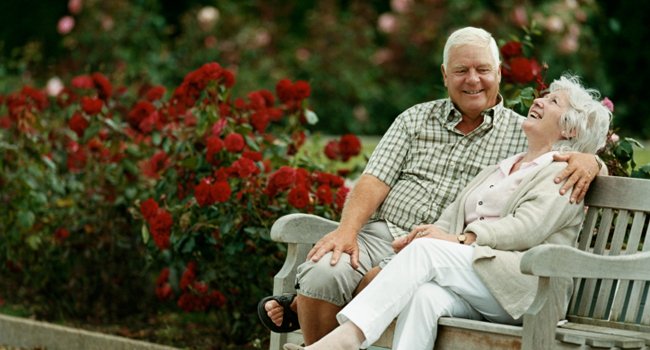 Silver Splitters: starting again after divorce in your 60s
The rates of divorce in people over the age of 60 have risen by three quarters in just 20 years according to the Office for National Statistics. If you're one of these 'Silver Splitters', as the media has dubbed them, here are some good reasons why it might be worth giving online dating a try.
Changes in life expectancy are cited as one of the reasons why more and more people are choosing to leave their marriages after the age of 60. According to the data many people find that after their children have left home and they've retired they have a new lease of life and sense of freedom.
Men and women can now expect to live, on average, another 25-30 years after retirement. With improvements in healthcare, better lifestyles, and increased financial security, these could be the years when people decide to do all those things left on their 'Bucket List' – fulfilling their dreams and ambitions rather than simply their duties and responsibilities.
The decision to divorce
According to the data men are just as likely as women to file for divorce in later life. The 'silver fox' is a man who knows himself and what he wants. He may have a wandering eye and a sense for adventure and some people are suggesting the phenomena could be a delayed mid-life crisis.
A woman's choice to leave a long marriage is often the result of empty nest syndrome. After many years of raising a family, and being defined by that role, when the children have gone it's a chance for women to fulfil their lives in a different way.
For both men and women, later life brings different priorities. Just like any other transition stage in a relationship, a couple may come to see that even if they've been together for 30 years, they no longer have anything in common or want the same things. The decision to divorce is never an easy one but leaving a marriage doesn't mean that you're destined to spend the rest of your life alone.
Logging on
Online dating is the perfect forum for people in this age group to meet each other. It 's safe, secure, and allows you to dip your toe in the dating pool very gently as you begin to get accustomed to the idea that you're single again. It even holds the potential for new friendships as well as new romantic relationships.
If you don't have a computer, or access to the internet, get down to your local library and take a 'Silver Surfers' course – they're usually free and will give you all the support you need to get online.
Compatibility
If you've left your marriage because you want to drive across America on a Harley Davidson and your (ex)husband wanted to get a static caravan in Bognor it's important that anyone new you have a relationship with shares your passion. The compatibility algorithm that makes eHarmony so unique will match you with people who are likely to have a real connection, based not just on interests, but also on shared values.
Nothing ventured, nothing gained
There are many reasons why you're never too old to date but it can be hard to know where to start. You may feel embarrassed about trying online dating but you won't be on your own and there are many informative advice articles on the site to help you every step of the way. You don't need to pay anything to sign up, fill in the personality questionnaires and view your matches. You'll even be able to take advantage of free communication weekends when they come up. Love is what gives life meaning and there's no age limit to the desire to be with someone we really connect with. You've got nothing to lose and possibly a whole new chapter of life to gain.
How it works
Your search for a great relationship has never been easier with groundbreaking overhaul of the eharmony you know and trust.