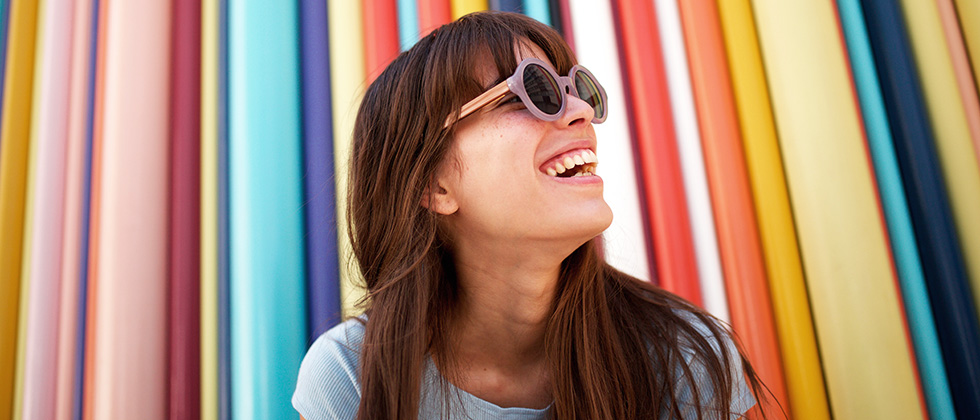 10 responses to 'Why are you single?'
Whether it's a family dinner, work event or school reunion, if you're single, then you should always be prepared to hear the dreaded question: 'Why are you single?' Never fear; these 10 responses will ensure you're never lost for words. 
If you're single – which is likely if you're reading this – then this question probably makes your blood boil. Whether asked by an old aunt or a smug married couple, it's never welcome. It seems to suggest there's something wrong with being single – which, of course, there isn't.  If you find yourself fumbling for an answer other than "Well, err, umm, I'm not sure" try one of these great suggestions.
1. 'I like being single. I get to live my own life, which is perfect for me until the right person comes along.'
This is the measured approach, giving a good, philosophical reason, without being too blunt. This (or a variation of it) should be your go-to answer when you don't want to be funny, sharp or flirty.
2. 'I'd rather be happy and single than unhappy and in a relationship – wouldn't you?
This answer might just give the asker something to think about. It's a very fair sentiment, and may even stop them from asking this most irritating of questions!
3. 'I don't know, why do you think I'm single?'
The more confrontational approach can work, but be warned this question is likely to make things quite awkward conversation wise.
4. 'Because we've only just met!' *wink*
If the asker is someone you find attractive – and who you know is single – the flirty approach might just work. It needs to be followed with a wink or a wry smile to show that you don't take yourself too seriously.
5. 'What with my day job and spending my evenings fighting crime, I just haven't had time to meet someone.'
The funny approach. It can diffuse a situation, and also drops the hint that you're not interested in pursuing the conversation further. The 'fighting crime' section can be replaced with anything absurd…
6. 'I'm just lucky I suppose!'
This response could be taken as passive aggressive, it just depends how you say it. It is guaranteed to shut up anyone who's in a relationship though.
7. 'Why are YOU in a relationship?'
If you want to make a point that you don't like being asked the question, here's your answer! Just be prepared for an honest answer, which could take the conversation in a completely different direction.
8. 'Meeting someone special would be great, but I just haven't met him yet.  It's not an easy task, and I want to get it right.'
Like #1 this is a fair and honest response, and shows you're looking for quality over quantity. Sure you could be with anyone, but you want to be with someone.
9. 'You're asking me on a date? Well, that'd be awesome/you're not really my type, sorry!'
This is a bit ballsy, but will definitely get their attention (and probably stop them from asking the question again). A great answer if they're single too.
10. 'Because I like being able to hang around in my onesie, and eat pizza while watching the West Wing. All weekend.'
How this response is taken depends on how you say it. Said in an upbeat tone and it's basically saying to the other person "This is what you're missing being coupled up". Said in a sarcastic voice it says "Please leave me alone".
How it works
Your search for a great relationship has never been easier with groundbreaking overhaul of the eharmony you know and trust.