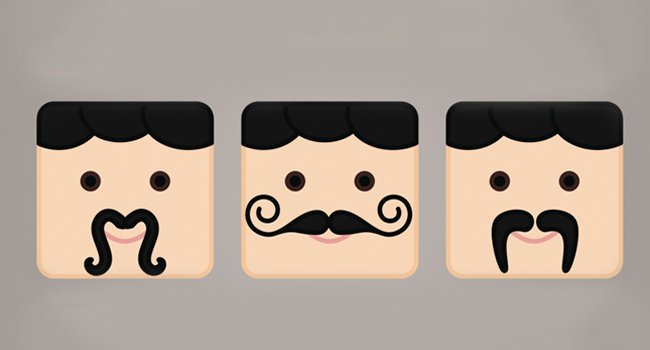 5 Reasons to love a guy with a moustache!
We're half way through November so all the guys participating in Movember (uk.movember.com) should be sporting a substantial amount of facial hair by now.
If you're dating during this manly month, the chances are that you may find your date doesn't resemble his profile pic because he has a newly sprouted hairy upper lip. According to the Mail Online 80% of women profess to love a man with a mo but for some women it's still a turnoff. If you're one of those take a look at our 5 good reasons to love a guy with a moustache and let us know if you change your mind!
1. He's a philanthropist
If a guy's growing his 'tashe for Movember then you need to admire his altruism. It's easy to put your hand in your pocket and make a donation to charity but it's a different level of giving when for a whole month you allow the world to see the colour, texture and style of your facial hair and ask your family friends and colleagues to sponsor you to do it.
Men can be just as vain as women about their appearance especially when they're dating, so instead of giving him the brush off because of a hairy upper lip, give him a chance to explain the reason behind it.
2. He has awareness
Movember isn't just about raising money for research into men's health issues, it's also about raising awareness of the devastating effect illnesses like prostate and testicular cancer can have on people's lives. Men may be embarrassed to approach their GP when they first get symptoms and campaigns like this are vital to help spread the message that early treatment really can save lives.
If your man's grown a mo to support his bro, then it shows he's kind-hearted and aware of issues above and beyond his own self. He's more likely to take care of his own physical wellbeing, to be health conscious, eat well, and stay fit.
3. He has a sense of fun and doesn't take himself too seriously
Most people rate a sense of humour as one of the most important things they're looking for in a new partner. Growing a moustache for charity means your man isn't afraid to be teased or laughed at and doesn't take himself, or life, too seriously.
4. He has staying power
Lots of people do things for charity and many of them may go unnoticed by those around them because they're not publicised or talked about. Occasionally people will dress up in a costume or do a one off stunt at home or work but the Movember campaign is different. It lasts a whole month, not just a few hours or a day. A man who stays the course is worth hanging on to especially if his mo is a real 'no-no' and he can't wait to shave it off!
5. If your man's moustache is a permanent feature
For some men a moustache is a permanent feature (or may become one after participating in Movember). If this is the case they're in good company with many famous and distinguished people – Albert Einstein; Salvador Dali; Clark Gable and Burt Reynolds to name but a few from history.
There are also more contemporary role models including celebrities like Jude Law, Pierce Brosnan, Johnny Depp and Bradd Pitt, showing that a well groomed 'mo' can be devastatingly sexy.
Kissing a man with a moustache may tickle at first but until you've tried it you don't really know what you're missing! Don't let facial hair stop you from getting to know the man underneath.