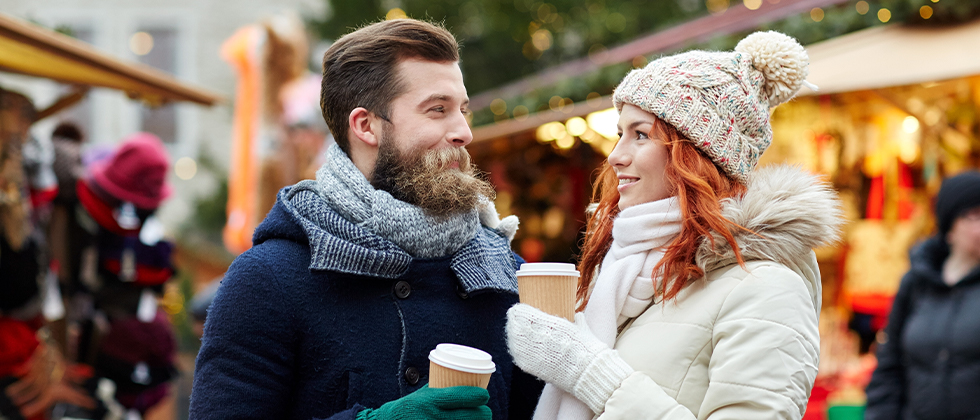 10 Ideas for Romantic Winter Dates
It's cold and dark and it can be tempting to hibernate until the spring comes but winter is a great time to try some new dating ideas.
Winter days are short and the nights are long so hear are some great dating ideas to help you beat the winter blues
1. Ice skating
Most major cities now set up a temporary ice rink for the winter months. Even if you have never skated before it can be fun to try. As a date it is perfect as it is a great opportunity to wrap up warm, hold hands, support and encourage each other and, most importantly, have a lot of fun
2. A romantic winter picnic
A great winter picnic starts with proper planning. Decide on where you are going to go and what you are going to do. Many well known beauty spots are just as stunning in the winter and attract many forms of wildlife during the winter months. A location by a lake or river is always a good bet. Be sure to check the weather reports though, a few snow flakes are ok but a blizzard isn't good.
There are loads of different types of insulated picnic baskets and backpacks to choose from so you can make hot food at home and it will stay nice and warm for when you and your date are good and hungry. Popular ideas to include are a thermos of hot chocolate or soup; baked potatoes, chilli, or a warming winter casserole. The key is to keep it simple, wholesome and light to carry.
3. Go to a matinee
There is something very romantic and indulgent about going to the cinema or theatre in the middle of the day. Matinee shows are often less likely to be sold out, and are less pricey, too.
4. Paint a pot together
In most large towns now there are pottery cafes where you can go and get messy and creative together. You choose a cup, plate or teapot, select your colours, order a hot coffee and then spend as long as you like indulging your inner artist. It is a lovely way to get to know each other away from your normal adult responsibilities and roles. It's also a good date choice in the early days of getting to know someone because there isn't pressure to talk constantly as you will both be working on you ceramic masterpieces.
5. Stargaze
Stargazing is much clearer in the winter because the earth is cooler. Either you can go to a place where there is little light pollution and take your own telescope – a good pair of binoculars will do just as well – or go to an observatory and use professional telescopes. It doesn't have to be in the dead of night, watching a sunrise or sunset can be just as romantic. Do a bit of research on the constellations (some smart phones have an app you can use) get a laser pen and you can both try to pick them out.
6. Go to a tropical garden
If you really don't like the cold a visit to a tropical garden can be a welcome relief as well as a perfect date. As well as heating your blood you will get to see rare and exotic plants, birds and insects which will give you and your date plenty to talk about.
7. Have a games night
Either just the two of you, or with friends, a games night is always fun. You can make use of the latest technology and show off your dance or racing moves on the Wii or Xbox; dust off your old board games or have a retro games night with games from your childhood like Snakes and Ladders or Cludo.
8. Take a class together
The winter evenings can feel much more fun if you have a hobby to share. There are loads of different workshops and courses in almost any subject you can think of from circus skills to comedy improvisation or from archaeology to rock choirs. Trying something neither of you have ever done before can be a good bonding experience as well as great fun and may inspire you both to enrol on a longer course.
9. Go on a ghost tour
The darker evenings provide a spooky backdrop to the ghost tours that are now available in most cities. Feeling a bit spooked, out in the cold is a good reason to hold hands and huddle together for support. Contact your local tourist information to find out what's available in your area.
10. Come on baby light my fire
There is something eternally romantic about sitting by an open fire, talking late into the night and toasting your toes as well as a few marshmallows. If neither of you have a fireplace at home then wrapping up warm and sitting round an open fire outdoors is equally as romantic.