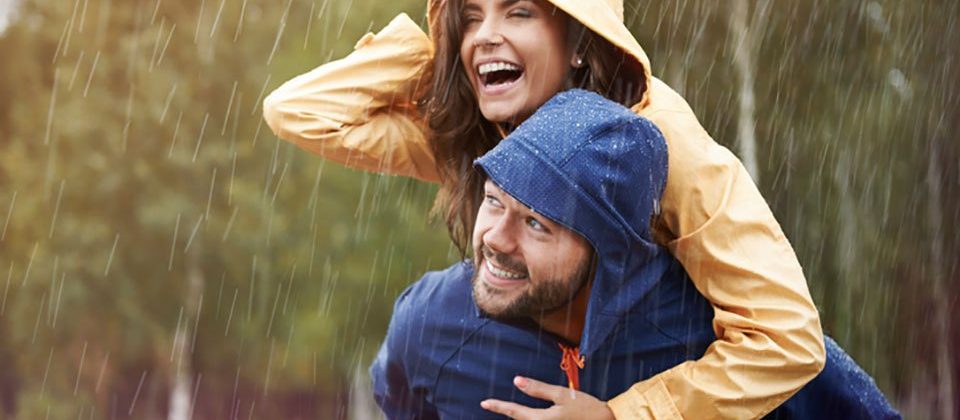 5 date ideas for bad weather
Bad weather is virtually guaranteed when you live in the UK. But what can you do on a date when the nights start drawing in, there's a chill in the air, and the rain is falling? Here are 5 of the best bad weather date ideas
In bad weather, it's natural to want to stay inside, somewhere warm and dry. But if you do venture out of the house, there are some great opportunities for dating available, whatever the weather. Check out 5 fun date ideas that will put a smile on your face come rain or shine!
1. Visit a film set or studio
A quick Internet search is all it takes to find out where your date's favourite film or TV show was shot. Taking your date on a visit to a film studio that's open to the public, like the Warner Bros Harry Potter Studio Tour, could be a really fun date idea in bad weather.
Many of the UK's most popular period dramas are also filmed on location at country houses. If you live near to a stately home, it's likely to be open to the public and offer a whole host of attractions (including great tea rooms!) Why not take some time to research the history of the house before you visit? It's sure to impress your date.
2. Fairs, fates and exhibitions
If you and your date share a passion, there's sure to be an exhibition on it somewhere! Whether you love Dr Who or romantic literature, you'll be catered for. Fairs, fates and exhibitions like this are good places to meet like-minded people – and a great date idea if you share common interests with your date. There's nothing more attractive than seeing someone enjoy something they truly love.
3. Food glorious food
Going for food is one of the best date ideas whatever the weather. There are few things better than sharing a meal. But, if bad weather keeps you at home, why not cook together? It's a great cheap date idea and a good way to get to know each other in a less formal setting. You could even get creative, experimenting with different flavours and ingredients. Whatever your skill level or experience, you can make the date romantic in an instant by adding candles, soft music, and a great dessert!
4. Museums and art galleries
When the weather is bad, we highly recommend trying a cultural date. Museums and galleries are usually free to enter, warm, and offer great discussion opportunities. Galleries also often offer touring exhibitions, so it's always worth keeping an eye on what's on where you are. It's easy to neglect your local tourist spots but they often make fun date ideas. Get to know your area – you might have some great date venues right on your doorstep!
5. A night of nostalgia
Sharing happy childhood memories with your date is a great way to bond. One cute date idea in bad weather is to spend an evening looking through each other's photo albums. You could even have a games night. Pull out your old board games or get crafty with glitter and glue.
Whatever the weather, the secret to having a good date is your time and attention. If it's raining outside or not, put away your phone, forget that work project and really focus on your date. The more you stay in the moment, the more fun you'll have on your date. And don't forget; the best relationships are built on happy memories.