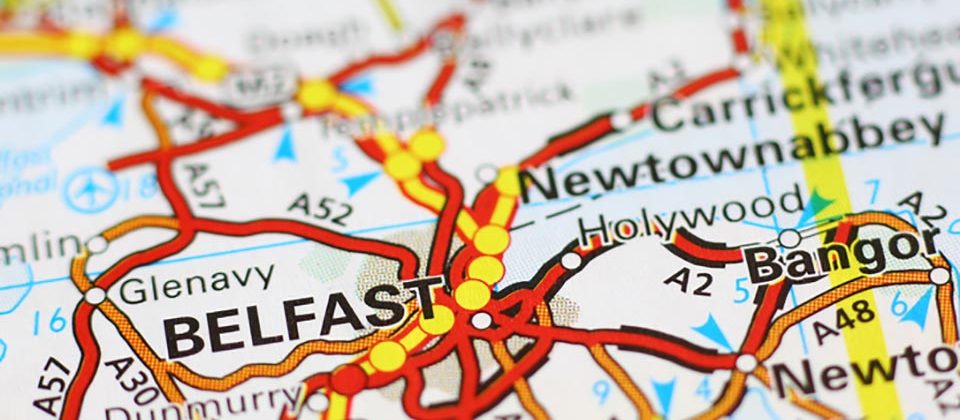 Belfast date ideas: 15 of the best
Belfast date ideas don't get better than this! We've rounded up 15 of the Northern Irish capital's very best – there's something for every taste and budget imaginable
Fun date ideas
Watch a film at Odyssey Cinema
Dating a film fan? Odyssey Cinema should be at the top of your must-visit list. This expansive cinema complex boasts Belfast's biggest screens and is the best place in the city to catch the latest blockbusters. Cuddle up for a rom com or get your adrenalin going with a horror before heading to dissect the plot at the Director's Lounge. This stylish space is exclusive to VIP ticket holders and offers panoramic views across the city skyline (as well as complimentary hot drinks!)
Odyssey Cinema, Odyssey Pavilion, 2 Queens Quay, Belfast BT3 9QQ, +44 (0)28 9073 9134, odysseycinemas.co.uk
Take a class at Mourne Seafood Cookery School
If you're looking for a fun date idea with a difference, take a drive to Mourne Seafood Cookery School in Kilkeel. This award-winning centre overlooks the harbour and teaches its students how to buy, handle and cook a range of fresh fish and seafood. With a chef overseeing the classes, you'll gain serious culinary skills in a relaxed learning environment. And instead of a dinner date, why not end your date with a seafood masterclass? This two-and-a-half-hour session ends with you and your date preparing your own two-course meal. Definitely food for thought.
Mourne Seafood Cookery School, Nautilus Centre, Rooney Road, Kilkeel, County Down, BT34 4AG, +44 (0)28 4176 2525, mourneseafoodcookeryschool.com
Attend a play at the Lyric Theatre
Whether you're a fan of original drama or prefer creative twists on classics, you're sure to impress a date with the diverse programme on offer at the Lyric Theatre. The venue is known for championing Northern Irish playwrights and actors. Liam Neeson is a patron and the likes of Adrian Dunbar and Ciaran Hinds have performed on its stage. Ensure your date story has a happy ending by discussing the play over a cup of freshly-roasted Bailies coffee at the on-site Lyric Café Bar.
Lyric Theatre, 55 Ridgeway Street, Belfast BT9 5FB, +44 (0)28 9038 1081, lyrictheatre.co.uk
Escape from Crumlin Road Gaol
Looking for an adventure? Head behind bars at the Crumlin Road Gaol. Set just outside the city centre, the gaol opened in 1845 and was a working prison until 1996. Known as Europe's answer to Alcatraz, the gaol has a fascinating history that will make for a great date no matter what. We recommend booking onto the hour-long Paranormal Activity tour – you can always hold hands with your date if things get scary!
Crumlin Road Gaol, 53-55 Crumlin Road, Belfast BT14 6ST, +44 (0)28 9074 1500, crumlinroadgoal.com
Admire the attractions at Ulster Museum
A date at Ulster Museum won't leave you short of conversation. A popular Belfast date idea, the museum is home to everything from dinosaurs to Egyptian mummies – and it's completely free of charge! Whether your date is an art lover, history buff, or simply curious, they're sure to be impressed. There's even a coffee shop on site where you can go to continue the conversation. Enjoy a range of fresh local produce alongside picturesque views of the surrounding Botanic Gardens.
Ulster Museum, Botanic Gardens, Belfast BT9 5AB, +44 (0)28 9044 0000, nmni.com
Romantic date ideas
Climb Cave Hill and visit Belfast Castle
What date idea could be more romantic than escaping into the countryside? Head to the north of the city and choose between a hike up Cave Hill or a walk around Belfast Castle. You and your date can take a stroll around the beautiful castle gardens while falling in love with the view across the city skyline. End your date with afternoon tea in the castle's very own Cellar Restaurant. An extremely civilised conclusion.
Belfast Castle, Antrim Road, Belfast BT15 5GR, +44 (0)28 9077 6925, belfastcastle.co.uk
Treat yourself to an evening at The Merchant Hotel
If you really want to make an impression on your date, head to the world-famous Merchant Hotel in Belfast's Cathedral Quarter. The Merchant is a slice of luxury in the heart of the city with an opulent Art Deco interior, so be sure to dress to impress. Order a cocktail or two in the multi-award-winning jazz bar and we promise you'll fall in love with more than the décor by the time the evening ends.
The Merchant Hotel, 16 Skipper Street, Belfast BT1 2DZ, +44 (0)28 9023 4888, themerchanthotel.com
Dine at the House of Zen
The atmospheric interior of Belfast's House of Zen is guaranteed to set the mood for a great date. Set in Belfast's Cathedral Quarter, the restaurant offers a menu of fine Asian cuisine. There are dishes from every region of China available, including classics like Chinese roasted duck and spicy King Prawns – you'll be spoilt for choice! Treat your date to the house signature dish; a pan-grilled fillet steak marinated in assorted herbs and ginger with a homemade wasabi pepper sauce.
House of Zen, 3 St Anne's Square, Belfast BT1 2LR, +44 (0)28 9027 8688, houseofzenbelfast.co.uk
Try a cocktail at Love and Death Inc
Love and Death Inc is small but perfectly formed. This speakeasy-style bar is one of Belfast's best and serves a range of bespoke cocktails that are sure to satisfy even the pickiest of dates. The eclectic décor is sure to appeal to adventurous spirits, although the warm, welcoming staff will put those of a more nervous disposition immediately at ease. Visit early evening for cocktails and food or stay late when the DJ starts spinning.
Love and Death Inc, 10A Ann Street, Belfast BT1 4EF, +44 (0)28 9024 7222, loveanddeathinc.com
Enjoy seasonal produce at OX
If you're really setting out to impress your date, book a table at OX. This acclaimed restaurant offers seasonal dining at its very best. Its menu features the highest quality meat, sustainable fish, and fruit and vegetables that are never treated as an afterthought. With its riverside setting and relaxed but perfectly polished service, it's impossible not to fall a little bit in love with this effortlessly romantic restaurant.
OX, 1 Oxford Street, Belfast BT1 3LA, +44 (0)28 9031 4121, oxbelfast.com
Cute date ideas
Grab a coffee at Kaffe O
Treat your date to a slice of Scandi café culture at Kaffe O. This Nordic-inspired coffee shop could just as easily be in Copenhagen – its coffee beans are roasted in the Danish capital by master roaster Ricco Sorensen. This isn't the kind of place to offer intricate latte art, but if your date is a true coffee connoisseur they'll be impressed by the care and attention paid to every espresso and flat white. There's food too, all made in-house. Choose between veggie-friendly soups, stews and salads as well as a range of locally-smoked salmon and cured meats served on Smorrebrod.
How it works
Your search for a great relationship has never been easier with groundbreaking overhaul of the eharmony you know and trust.
Kaffe O, 411 Ormeau Road, Belfast BT7 3GP, kaffeo.coffee
Take a stroll around St George's Market
If you're looking for Belfast date ideas that let you walk and talk, head to St George's Market on a weekend. This city market plays host to an array of craft and food stalls selling a range of local and European produce. The range is extensive so there's sure to be something to whet your appetite, whether your date prefers sweet or savoury. And you'll have plenty to talk about as you wander around the stalls, taking in the colourful sights, evocative scents and general hubbub of the market.
St George's Market, 12-20 East Bridge Street, Belfast BT1 3NQ
Admire the art at the MAC Belfast
In the mood for a cultural date? You can't get much better than the MAC. Located in Belfast's Cathedral Quarter, this trendy centre is dedicated to cultural delights. Invite a date to check out the current exhibition before taking in a show. You're sure to have plenty to discuss afterwards so head to the MAC's on-site restaurant the Canteen or venture outside to dine at one of the city's finest eateries, conveniently within walking distance.
The MAC Belfast, 10 Exchange Street West, Belfast BT1 2NJ, +44 (0)28 9023 5053, themaclive.com
Plan a picnic at Sir Thomas and Lady Dixon Park
The Sir Thomas and Lady Dixon park is one of Belfast's best – and a great place to take a date on a sunny afternoon. There are 128 acres to explore, made up of romantic rolling meadows, copses, woodland and gardens. Take a quiet stroll around the walled garden, share a few moments of quiet contemplation by the water in the Japanese-style garden, or take time out to smell the roses in the International Rose Garden (home to the annual Rose Week each July).
Sir Thomas and Lady Dixon Park, Upper Malone Road, Belfast BT17 9LA
Celebrate something special at Shu
If you're looking for high-end cuisine in a relaxed setting, book a dinner date at Shu. Set in a Victorian terrace but featuring stunning contemporary décor, one of the best things about this popular Belfast restaurant is that there are no bad tables. You and your date can take in the atmosphere while perusing the menu of French-influenced food that makes the most of seasonal ingredients. The selection is updated regularly but typical fare might include beef bourguignon with creamed potato, roast shallot and smoked bacon, or roasted artichokes with artichoke puree, fried kale and cumin.
Shu, 253 Lisburn Road, Belfast BT9 7EN, +44 (0)28 9038 1655, shu-restaurant.com