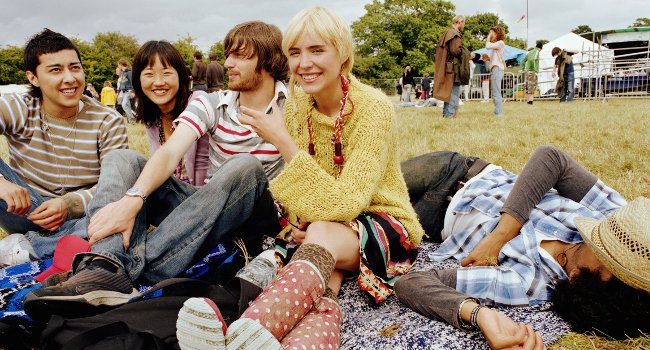 Dos and don'ts of taking your date to a festival
If music is the food of love then a music festival is the banquet of all banquets. So what better place to take a date?
But before you break out the denim cut offs and wellies in preparation, here are a few dos and don'ts to make sure you and your potential partner get the most from the music and the mud.
DO get caught up in the atmosphere
It's a festival. You're surrounded by hundreds or thousands of people with a smile on their faces. That's not something you'll get the benefit of in your local Italian, so feel free to enjoy the good vibes.
DO stick to the smaller stages if you want to chat
Unless you think yelling over the latest headliner makes for great romance, you might want to seek out the smaller tents and stages for something a little more intimate (or talkative).
DO go for a day pass
Spending a whole weekend at a festival is probably a little much for early-stage dating. So find somewhere that offers you a day ticket and save yourself from the less than glamorous wet-wipes-and-dry-shampoo day two.
DO try glamping
If bedding down for the weekend is unavoidable, there are plenty of ways to spruce up a humble shelter. Bring real sheets and a duvet, or even go for a full on tent-alternative, like a teepee or yurt. One thing to note; candles and canvas don't make for a very romantic combination (we promise, this isn't the kind of fire you're after!).
DO book in advance
Festivals sell out. Quickly. In fact V Festival tickets have been known to sell out in an hour and a half, and don't mention the word Glastonbury to anyone who had a lie-in when the tickets were released. So if you're planning on taking your date to a popular festival, it's fingers on buzzers time.
DO start somewhere local
There are less romantic things to do than sit in traffic on a sunny day, so consider finding a festival that's close to home. Not every festival requires a tent and a trip, so take to Google and find one near you.
DO go gourmet
There's plenty of fancier fare on offer than burgers, beer and hotdogs. So, even though you may be in a field, you can still treat your date to a tasty bite to eat.
DON'T get lost
It's easily done in a field with a thousand other mud-caked people. So keep a mobile on you and agree a place to meet in case you get separated. This isn't the kind of place you want to work out if absence really does make the heart grow fonder.
DON'T wee anywhere that's not a toilet
Tempting as it may be when you're absolutely desperate for the loo, the potential embarrassment if you get caught with your pants down just isn't worth it in the long run.
DON'T be afraid to pick something a little different
You don't have to go for a muddy mosh pit for your first date if you're set on a festival. There are plenty alternatives – like world music festival WOMAD or the Cambridge Folk Festival.
DON'T forget to bring cash
Needless to say, it isn't easy to find a cash point at a festival. So don't forget to bring some real money along with you (kept somewhere safe of course!). There's nothing worse than turning up to a date and realising you can't buy them a drink, or grab yourself a taxi if you want a quick exit.
Tried out festival dating for yourself? Let us know what your festival dos and don'ts are!