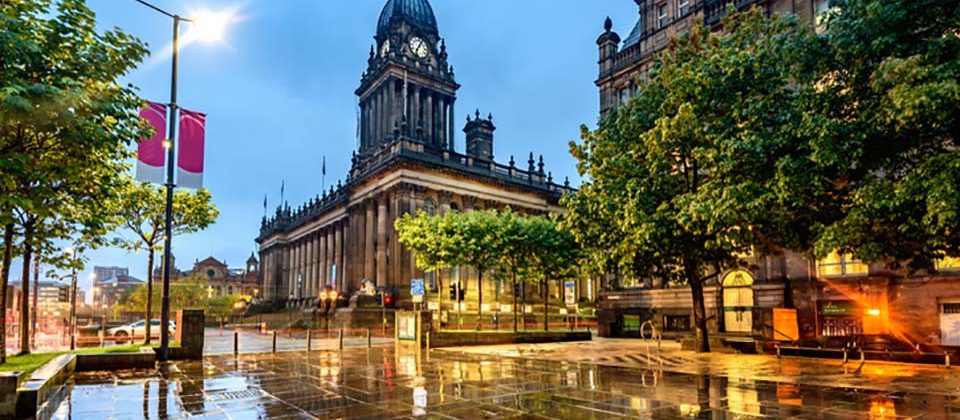 7 of the most amazing first date venues in Leeds
Whether you're looking for rooftop views, cutting-edge cocktail bars or picturesque parks, this Yorkshire city has it all. Check out our round-up of 7 of the best spots for a first date in Leeds
Shuffledog
If you're looking for a first date with a difference, why not show off your competitive streak at the UK's first shuffleboard bar? If you haven't heard of Henry VIII's favourite sport don't worry; Brewdog's Leeds outpost is a gamers' paradise. There are three 22ft shuffleboard tables to choose from, as well as a selection of board games, pinball machines, and vintage arcade games. And if the loser has to buy the drinks, there's plenty to choose from. 35 draught taps offer up the freshest craft beer and you can fuel up for round two with burgers, hotdogs and ribs.
Shuffledog, Brewdog, Crispin House, New York Road, Leeds LS2 7PF, +44 (0)113 391 2950, brewdog.com
Headrow House
Beer enthusiasts should have Headrow House at the top of their to-do list. This Edwardian former textile mill, set at the heart of Leeds city centre, is home to a classic beer hall with 60 international beers on offer. It's also the only place in Yorkshire that serves fresh, unpasteurised Czech beer, straight from the tank. If your date is more of a cocktail drinker, head upstairs to Redondo Beach. This bar serves a mix of classic and contemporary cocktails, plays host to DJs every Saturday night, and opens out to a huge roof terrace with views across Victoria Quarter, Kirkgate Market, and Victoria Gate. It's the perfect place to end a romantic evening – and go in for the kiss!
Headrow House, Bramleys Yard, The Headrow, Leeds LS1 6PU, +44 (0)113 245 9370, headrowhouse.com
The Social
A cool bar that always offers a warm welcome, the Social is a great choice if you're looking for a laidback first date destination. Everything is stripped back; exposed brick walls, comfy corner sofas, chunky wooden tables and mismatched furnishings characterise the relaxed atmosphere. You and your date can get to know each other over its selection of craft and cask ales, and take comfort in a menu that's centred on hearty soups and stews. It's no frills – in the best way – so you can just get on with enjoying your date. There's even a foosball table, if you're in the mood for some action.
The Social, 21 Merrion Street, Leeds LS2 8JG, +44 (0)113 244 1635
Blind Tyger
If you're looking for an intimate date spot, the Blind Tyger is a great pick. With its dark and brooding atmosphere, William Morris-esque wallpaper, cosy booths, and selection of eclectic trinkets lining the walls, it's a classic, old school drinking den. The soundtrack will appeal to every taste with its mix of soul, prohibition jazz and blues, while the cocktails are some of the best in the city. Every drink is original, but influenced by the classics. Try the Yorkshire-inspired God's Own – Rhubarb-infused Wyborowa vodka shaken with raspberry, pineapple and black pepper – or indulge in a Little Death: Beefeater gin, triple sec, anise cherry and Cocchi Americano aperitif wine.
Blind Tyger, 5 Cross Belgrave Street, Leeds LS2 8JP, +44 (0)113 246 0770, site.blindtyger.co.uk
White Cloth Gallery
A cultural first date is great for getting the conversation going, and the White Cloth Gallery is one of the city's most creative destinations. The gallery displays some of the country's most exciting photography exhibitions, celebrating both established and up-and-coming artists from across the UK. There's no permanent exhibition so you never quite know what you'll get! After checking out the latest pieces, discuss your favourites at the on-site café. Home to a Schooner bar (glasses that hold just 2/3 of a pint, allowing you to try more beers at cooler temperatures), a selection of speciality cocktails and food options that range from pizza to tapas, the café is almost as impressive as the art.
White Cloth Gallery, 24-26 Aire Street, Leeds LS1 4HT, +44 (0)113 218 1923, whiteclothgallery.com
Hyde Park Picture House
Declared the cosiest cinema in Leeds when it opened in 1914, Hyde Park Picture House is sure to charm a first date. Located in the city's vibrant student district, the cinema has just one screen but offers an intriguing mix of films, ranging from the latest blockbusters to arthouse and independent productions. The more unusual films definitely lend themselves to this unique setting; the Grade II listed cinema still features a host of original details that will help to elevate your date from typical dinner and a movie fare. Sit back, relax and make sure you pick a film that's likely to spike plenty of post-date debate.
Hyde Park Picture House, 73 Brudenell Road, Leeds LS6 1JD, +44 (0)113 275 2045, hydeparkpicturehouse.co.uk
Kirkstall Abbey
Choosing an active first date is a great way to mix things up, and it takes away the pressure that often come with a traditional drinks or dinner date. Kirkstall Abbey is the perfect place to while away an afternoon. It's one of the most complete examples of a medieval Cistercan abbey left in the UK, so taking a stroll around its ruins is sure to impress any history buff. If your date wants to find out more, check out the visitor centre, which tells tales of the monks who inhabited the abbey in the 12th century. Even those with no historical interest will be won over by the beautiful parkland surrounding the abbey, running along the banks of the River Aire.
Kirkstall Abbey, Kirkstall, Leeds LS5 3EH, +44 (0)113 378 4079, leeds.gov.uk