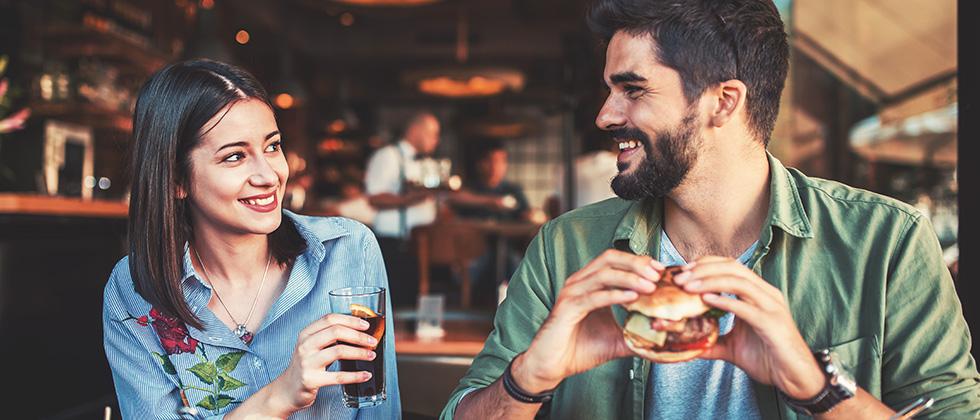 How much to reveal about yourself on the first date
Headline passions vs. the personality deep-dive. Finding the perfect level of revelation on a first date can be difficult, but London-based blogger, Marcello M, brings his advice straight from the dating front-line!
Arranging the first date should be a straightforward experience. You find someone you like; exchange emails then arrange to meet. That's it, right? It should a carefree meeting of minds, a thing of wonder and excitement. However, for me, it is at precisely this point that a curious thought process triggers. I always start to wonder, how much do I really want to reveal about myself?
Trepidation sets in as I try to decide if the unvarnished version of me is fit for purpose. Should I be plain old office-worker me, or should I be some kind of Byron-esque renegade, who just so happens to be slumming it in a desk-job? Do I wish to appear hazily laconic or zealous and engaging? The possibilities are limitless. Therefore in an attempt to find out more, I explored the options:
1. Reveal Nothing
On one date I tried to hold back and, rather than engage in light bluster, adopted a kind of brooding, almost menacing persona. I leaned back in my chair throughout, my features frozen in a wry smile – with my tousled hair and piercing eyes, I thought myself reminiscent of a young Clint Eastwood. I had even gone so far as to grow some patchy stubble. As we dined, my date asked me sunny questions about my life, to which I offered only short cryptic answers.
What a let-down I must have been – after my witty emails, she discovered that I was in fact a monosyllabic moron. Imagine the cinematic allure of Steve McQueen's leathery scowl – then take it off the big screen and plaster it across the face of a far less attractive man. That was me.
In the end, what was meant to be a display of stoic, no-nonsense manliness was just plain rude. It came as no surprise when she emailed to say she felt 'there was no spark between us'. Spark? My lights were barely on.
2. Reveal Absolutely Everything
Learning from my mistake, I changed everything for my next date. I wanted to get to know someone and being mute was not helpful.
I met a delightful lady for a drink in a Soho bar. The night was actually going rather well when, in an attempt to illuminate my soul, I started battering her with anecdotes. As we sipped our cocktails, I picked over the minutia of my life, recounting stories about friends, family and past loves. The desired result was to show myself as I was; the actual outcome was to appear slightly unhinged.
Having drained every ounce of frivolity from the date, I trudged home in the full knowledge that she would not want to see me again. I was not wrong.
3. The Goldilocks Approach
Feeling wounded after my spectacular mea culpa, I went back to basics. In order to get to know someone, I figured one has to do a bit of talking – combined with a bit of listening. With this technique in mind, I met with a charming lady for coffee in Covent Garden. There we discussed everything from the Pre-Raphaelites to our mutual love of libraries. It was like some kind of cultural Shangri-La.
In the end, I opted for an approach that was neither too hot nor too cold. Of course, we would all like to safely reveal our inner-selves to prospective partners, to find if that elusive spark truly exists. However, getting to know people takes time, I believe it was Collins who once said, 'you can't hurry love, no – you just have to wait.'
What worked for me was to reveal my headline passions – my love of old movies, obscure books and clapped out motorbikes – my 'greatest hits' if you will. A first date is but a brief moment, to waste it on pretence seems such a waste. Of course, I learned this the hard way. Sometimes, there is no other way. I also learned that when you speak from the heart, even one as bruised and worn as mine, you reveal yourself as you are: complex, contrary and inquisitive. Perfect, really.
Marcello M
I am Marcello – corporate peon, natural-born Londoner, and former sailor of the seven seas. As a debonair businessman with a penchant for motorbikes and foreign travel, I have always fancied myself as something of a maverick. The truth is somewhat more mundane: I am merely another thirty-something office-worker toiling in the City. Still, I am happy in my life; I have a great career and am fortunate enough to be surrounded by lots of friends and family.
London is a wondrous place, its dating scene a dazzling crucible – and yet, despite my charming, Han Solo style demeanour, I am still looking for my one true love.
I write about dating, low-grade office machinations, and life in the capital. I have also been known to dispense the occasional piece of relationship commentary.
You can read my dating diary on WeAreTheCity.
Follow me on Twitter: @MarcelloMLondon.