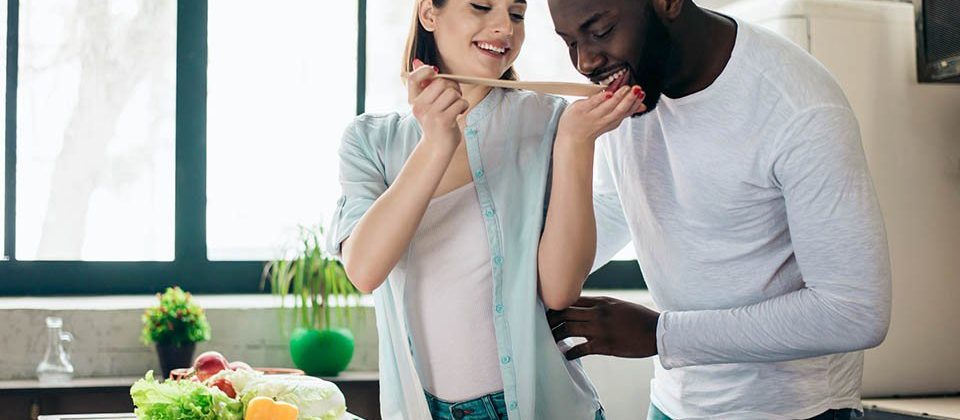 Home date: how to prepare for the first one
Check out our new relationship tips for that first date at home, if you're ready to take things up a notch. Stick to these and you and your date will have a great time!
If you've been dating for a while, you're probably considering tackling the first home date. But how can you make sure everything goes smoothly when your relationship is still new? Here are our top tips for dating at home
If you've exhausted the coffee break date, the dinner date, the after-work drinks date and the 'let's do something fun on a Saturday date', then it's time to consider the home date. You might be hesitant as letting someone into your world can seem like a daunting step , but it will give your new relationship the chance to move on to the next level. Here's our list of do's and don'ts for that first home date:
Be sure you're both ready
The date at home means something else – and no, we don't just mean sex (it certainly doesn't need to lead to the bedroom). The home date is a step up in intimacy; letting someone else into your home is a fairly big deal as it will tell them a lot about you. On the other hand, if you're the guest and you just don't feel comfortable going to your date's home at this stage in the relationship then let them know. You don't need to be tactless, simply say something like, 'I think it'd be great if we got to know each other a bit better over dinner dates first, with less pressure.'
Keep the home date simple
This new relationship tip is mainly for the host – don't try to do anything complicated. Don't cook something you've never cooked before (have you never seen Come Dine With Me?) and don't decide to redecorate your living room at the last moment. Something is bound to go wrong, which will stress you out, when in reality you want to be at your most relaxed and happy for your date.
Keep time
This tip follows on from keep it simple, as you should give yourself plenty of time to prepare your meal, tidy your home and get ready for the evening. Be realistic; if your date is coming round at 8pm and you finish work at 6pm then you'll probably want to buy your ingredients and do your Magic Maid impression the day before.
If you're the guest, make sure you know exactly where your date's home is – print off a map if you need to, because there's little worse than getting lost in an area you don't know and arriving late and flustered at your host's house.
Create a comfortable atmosphere
This is all important as it's likely you'll both be quite nervous. Obvious tip number one is to kick out housemates if you share with anyone (they'll probably be very obliging if they're at least half decent friends). If you have children it's up to you to decide the best route of action, but it's probably fair to say that if you haven't discussed meeting your children with your date yet then they won't be expecting to meet them. That's something all potential partners need some warning for, so take that into consideration.
Secondly, when you're setting the scene in your living room or kitchen try not to go overboard. It's not necessary for the low lights, soft R 'n' B music, candles and rose petals you see in the films. In fact, that might make your date even more uncomfortable if they think you're going for the big seduction scene.
Have a back-up plan
It always pays to have a back-up plan, especially when you're trying to impress someone. You might think you're Marco Pierre White, but even your lasagne could go awry. Keep at the back of your mind a local restaurant that you know won't be full on that day of the week.
Also, there's the question of what you should do after dinner. Offer your date a selection of DVDs to sit down and watch, as relaxing on the sofa after a tasty meal can be very romantic. But, be prepared for your date to say they don't want to watch a DVD, in which case you might want to suggest popping down to your local bar or cafe for an after dinner glass of wine or coffee.
Don't push your agenda
Maybe you think you're ready for the two of you to spend the night together, but that doesn't mean your date does. If you make it obvious that you see your date visiting your home as a sign you're going to have sex he or she will probably run a mile. Stay relaxed and anything that's meant to happen will, but if it doesn't that's no bad thing for your budding relationship either.
How it works
Your search for a great relationship has never been easier with groundbreaking overhaul of the eharmony you know and trust.