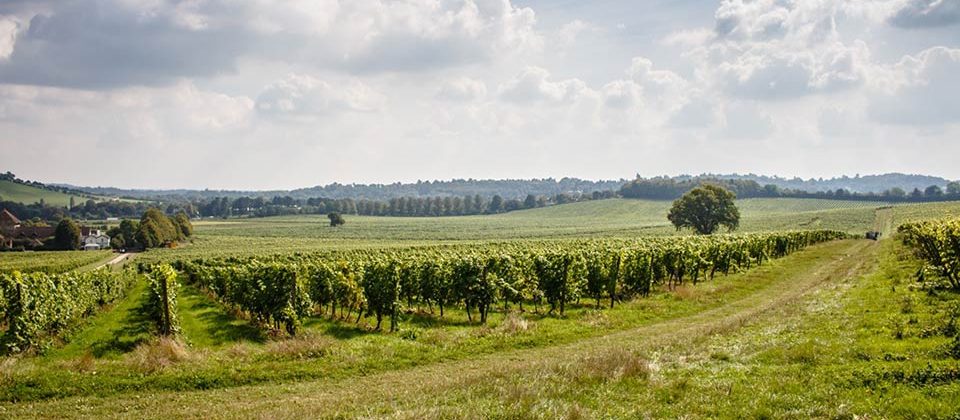 Surrey dating: 7 of the best date ideas
Whether you're looking for a romantic dinner date destination or something a little more unusual, Surrey has a whole host of great date ideas on offer
While being spontaneous can prove romantic, the very best dates are the result of careful pre-planning. If you're contemplating looking to plan the perfect date, get ahead of the game with our pick of seven of the best Surrey dating ideas.
Denbies Wine Estate
If you or your date fancy themselves as something of a wine connoisseur – or you're just looking for an unusual drinks date idea – then Denbies Wine Estate is a must-visit. Denbies has been producing fine English wines since 1984 and is one of the UK's largest producers. Climb aboard the train to take a tour through the vineyards (especially romantic at sunset) or head down to the cellar for a tasting session – you can even learn how to make cheese to go with your wine!
Denbies Wine Estate, London Road, Dorking RH5 6AA, +44 (0)1306 876616, denbies.co.uk
La Rive, Cobham
The dining room at La Rive is one of the most romantic we've ever seen. With its exposed brick walls, stripped wooden beams and intricate floral canopy, it has an interior that you're bound to fall in love with. Happily, the menu has been crafted with similar attention to detail, offering dishes that make the most of the world's finest ingredients. Visit on a special occasion or impress on an early date with this great Surrey dating venue.
La Rive, 48 High Street, Cobham KT11 3EF, +44 (0)1932 862121, larivecobham.com
RHS Wisley
If you're dating someone who lights up when presented with a bouquet or loves to spend hours toiling in the garden, then RHS Wisley is bound to impress. Take a leisurely stroll around the 60 acre estate; climb the rockery, or work up a sweat in the exotic glasshouses, before heading to the bustling food hall to enjoy afternoon tea – you'll find it impossible to resist the cake, we promise!
RHS Wisley, Woking, Surrey GU23 6QB, rhs.org.uk/gardens/wisley
Bel and the Dragon, Godalming
If you're not quite ready for Church bells to start ringing, Bel and the Dragon in Godalming is a much less intimidating alternative. Set within a former Church that was built in the 1800s, the restaurant boasts a striking interior and an atmosphere steeped in grandeur, while the menu offers British classics with a twist that showcase local, sustainably-sourced seasonal produce. And if you and your date ever run out of conversation, then watching the chefs at work in the open kitchen is sure to help cover up any awkward silences.
Bel and the Dragon, Bridge Street, Godalming GU7 1HY, +44 (0)1483 527333, belandthedragon-godalming.com
Thorpe Park
When it comes to Surrey dating, Thorpe Park might not immediately spring to mind, but it's the perfect place to show off your adventurous side and get your adrenaline going. The famed theme park is home to every type of ride imaginable, from classic teacups to the horror film-inspired Saw roller-coaster (a great excuse to hold hands in you're scared!) There's more than enough to do to fill a fully day, with restaurants and bars on hand if you're in need of refreshment. It'll definitely be a date to remember.
Thorpe Park, Staines Road, Chertsey KT16 8PN, +44 (0)871 663 1673, thorpepark.com
The Brickmakers, Windlesham
Classic country gastro-pub The Brickmakers is the ideal place to go for a low-key first date. A wide range of fine wines, Champagnes, spirits and real ales are on offer, alongside a menu of classic British cuisine that provides just the right balance between style, comfort and passion. On warm days, you can sit out in the beautifully-presented garden, decked out with picnic benches and parasols, while winter months invite you to get cosy in the leather armchairs, set by the wood-burning fire.
The Brickmakers, Chertsey Road, Windlesham GU20 6HT, +44 (0)1276 472267, thebrickmakerswindlesham.co.uk
Virginia Water Lake
Outdoor dates often make the best dates; it takes the pressure off and you may find that conversation is easier to come by when you're walking side by side. Virginia Water Lake is the perfect place to enjoy a romantic stroll; this former Royal pleasure ground offers soothing waters, rustic woodland and a whole host of wildlife. Be sure to end your visit with a trip to the Pavilion and a warm cup of coffee.