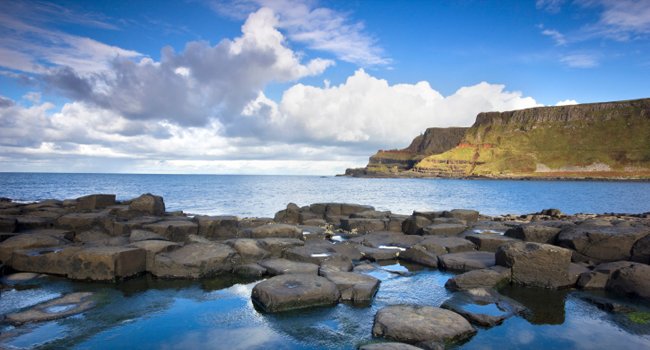 The Best Affordable Dates in Northern Ireland
With so much scenic splendour on your doorstep, and so many romantic myths associated with legendary locations, there really is no need to break the bank to enjoy a delightful date in Northern Ireland. Whether you fancy natural wonders, summer strolls, perfect picnics or simply lazing together on a lake, Northern Ireland can deliver dates made in heaven that do not cost the earth. Here is our pick of the best.
Picnic at Tannaghmore Gardens
County Armagh
Image Source – Geograph.ie
The delightful gardens around this Georgian farmhouse are decoratively planted with flowers, plants and shrubs and home to meandering tree and sculpture trails. There are also wandering ornamental birds and plenty of places to cuddle up and enjoy a picnic. The old Kissing Gate is said to ensure that those who smooch in its environs will be married within a year. Feeling lucky?
Drift round the Fermanagh lakes
County Fermanagh
Image Source – Flickr
You do not need to own a boat to enjoy the charms of the Fermanagh lakes. On day cruises that drift along the scenic shores you will coast past the many attractions of Upper Lough Erne. These include the romantic ruins of Crom Castle, the haunting beauty of Gad Island, and the peaceful environs of Inis Rath. The poetry of the sights is matched by the lovely legends attached to the lakes. It is said that the lakes were formed when maidens, trying to escape the unwanted attention of a giant, dissolved their bodies to form the waters.
Get inspired at Cavehill
County Antrim
Image Source – Flickr
Cavehill provides the best views of Belfast available and far-sighted lovers may be able to glimpse the Isle of Man or even Scotland. It certainly offers an inspiring sight – Jonathan Swift discovered that some rock outcrops resembled a giant's head and went on to write about the fantastical journeys of Gulliver. You can settle on simply discovering more about each other.
Walk arm in arm through the woods at Roe Valley Country Park
Londonderry
You need travel no further than the outskirts of Limavady to enjoy the tranquillity of a woodland walk with the romantic backdrop of a river plunging through spectacular gorges. There are foxes, badgers, otters and over 60 species of birds; but you will not have any trouble feeling you are perfectly alone walking along a forest floor bedecked in wild flowers.
Do something different at The Jungle
County Londonderry
Image Source – Flickr
Try a date with a difference at The Jungle, Northern Ireland's innovative and award-winning outdoor adventure provider. Nestled in woodland, you and your date can try some things that will give you plenty to talk about but will not cost a lot. How about a llama trek to really liven up that date or a spot of clay pigeon shooting to see if your aim is true?
Daring dates can spice things up much more than just another meal out together.
What is the date you would most like to go on? Let us know in the comments below.