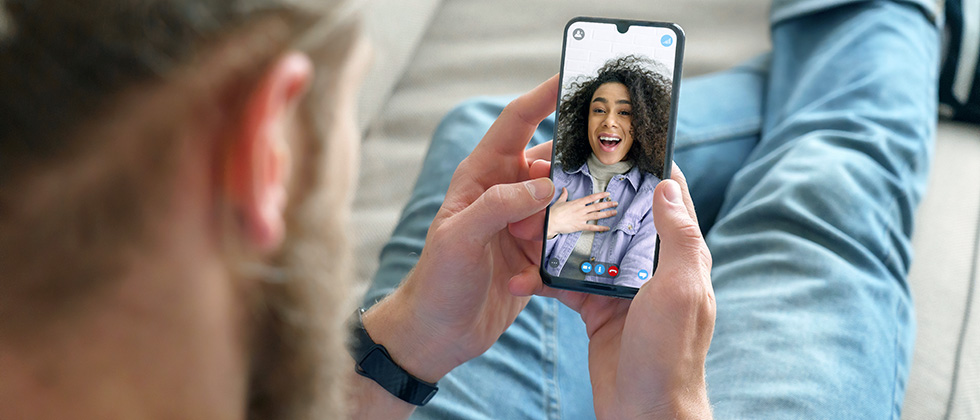 12 great reasons to use Video Date from eharmony
We're changing the rules of dating with our newest feature: Video Date. Now eharmony is giving you the power to dictate how you choose to date. Here are some reason why virtual dating could be a great option for you.
1 You get to know your potential partner better
How can you get to know someone better without meeting them in person? It's simple: when you're in your own home you feel more comfortable, which makes you more open and willing to share. This helps your match get to know your true, authentic self.
2 You don't have to share personal information
Once you've messaged with your match for a while, the next step is usually a phone call or a text. But not everyone wants to give away their private numbers to someone they've only just met online. With eharmony's Video Date, that isn't an issue. You can connect with one another without having to exchange personal information.
3 You don't have to constantly rearrange your schedule
We know your days can be filled with unexpected changes like having to work late or rush home. This makes planning dates a bit difficult. But with Video Date, your time for dating can be more flexible. Date whenever and wherever you want, it's a simple press of a button.
4 You can spend more time talking and less time traveling
Scheduling a date can be hard but finding somewhere to meet can sometimes be even harder. So save yourself the hassle and use our Video Date feature instead. Simply go into the app, press a button and you're on your date.
5 You save time and money
Let's face it, dating is expensive. Between travel, drinks, food, activities – everything quickly adds up. Luckily, we've found a way to make going on dates a little less expensive. Enjoy your date from the comfort of your own home, safe in the knowledge you won't have to end your date with the awkward question of "Who pays?"
6 You're in the driver's seat
Dating is nerve wracking. Partly because you're meeting a stranger but also because of variables you have less control over, such as traffic or which one of you is paying. However, with Video Date you not only have the security of your own home, but you also retain more control. On a Video Date there's no more waiting for the meal to end or awkwardly leaving the restaurant or bar – separately or together. Now, you have control and can date how you want.
7 You have fewer distractions
Dates are usually in crowded places and while that's comforting on some levels, it can be also be distracting. With a Video Date, you can find a quiet space where you can get to know each other undisturbed.
8 You get a sneak peek into each other's lives
Your home says a lot about you. So, in some respects, a Video Date reveals more about you than an in-person date would initially. From the first moment of meeting, you gain a little extra insight into each other's living environments.
Tip: After a few video dates, give a mini tour of your place. It's fun and gives the other person even more insight into your style and personality.
9 You have endless date options
You can cook dinner together, livestream a concert or watch a movie. With Video Date you and your date can do whatever you want, whenever and wherever you want.
10 You don't have to wait to see each other
We've said it before, and we'll say it again – scheduling dates can be hard when you're trying to coordinate two busy people. It can be months until you meet a match in person, and no-one has time for that. When you use Video Date, you can prioritise seeing each other even if it's just for a few moments. Schedule a quick hello over coffee in the morning, make dinner together at night – take advantage of how easy it is to go on a date.
11 You can focus on each other
Less distraction mean you can focus on getting to know your match. Studies have shown that making eye contact can strengthen your emotional bond. So go beyond the colour of each other's eyes and use the time to really connect.  Tip: Too intensive eye contact can be off-putting so let your gaze wander from time to time.
12 You start to build a bond
Video dates are all about one thing: you. For each person, the other one takes up all their attention and their full screen. So, ask as many questions as you want and take advantage of the time together. If you've found that spark, don't stop building that special connection.