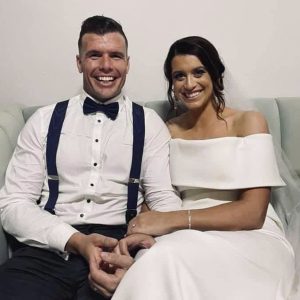 Brie & Luke
Montmorency, Australia
Married May 8, 2021
Without eharmony we would have never met; at the time of meeting Brianna online, I was working at a faith-based rehab clinic in country Victoria, while Brie lived in Montmorency. I was also a bit reluctant and unsure about online dating due to bad past experiences with less reputable apps. I chatted to my Dad and he gave me a little push towards eharmony – this was roughly May 2020 during the COVID-19 lockdown era.
First off, Brie wasn't really giving me much. Over time we chatted more and more, and eventually exchanged social media profiles. Our first real dates were FaceTime calls whilst the COVID lockdown was on. The first FaceTime went on for 45 minutes, which almost made her late for something else. The next night we spoke for over 3 hours – and for every night after that, for at least an hour. Safe to say we were falling for each other. We also met each other's family on FaceTime and spoke in depth about life.
In late October 2020 (once all the lockdowns eased up a little), I had headed back home to see family and we stopped for a random toilet stop in a town. All of a sudden Brie was there running towards me waving and smiling. My heart melted. She had organised a surprise with my family to meet me on my way back. We shared a beautiful picnic together by a big lake and it was truly amazing. I knew from that moment she was the one. We got engaged on 13th February 2021 and were then married on 8th May 2021. We've lived very different lives, yet we are so similar. We are both so in love, so happy and feel we have found our perfect match; we wouldn't have met if it wasn't for eharmony. Thanks for letting me share our love story and for helping me meet my forever partner.