Asian dating has never been easier than on eharmony
There's a whole world of choice out there, whether you're looking for an Asian dating site or just want to explore the possibilities of meeting genuine Asian singles. At eharmony, we've got over 20 years' experience in bringing couples together from all walks of life based on compatibility. So you can date with confidence, knowing that you will connect with people who want the same thing you do: a lasting, loving relationship.
What to look for in an Asian dating site
When looking for an Asian dating site, you'll find endless possibilities. But there's a whole lot of reasons to start your journey on eharmony. We know Asian dating is all about finding your perfect match and lots of Asian singles use dating apps in order to find a like-minded partner who shares their cultural background. Among our large membership in Australia, you can easily meet compatible singles who match your criteria.
So if you want an Asian dating experience that will help you meet genuine Asian singles who want a lasting relationship based on equality and respect, then read on.
Asian dating Australia – the basics
Before we start talking about dating sites for Asians, it's worth asking what we mean by the term in an Australian context. Although the Australian census doesn't directly collect data on race, it does ask citizens to give information on their ancestry. And in the last census in 2016, just over 16% of respondents reported their ancestry as Asian, a significant chunk of the population.1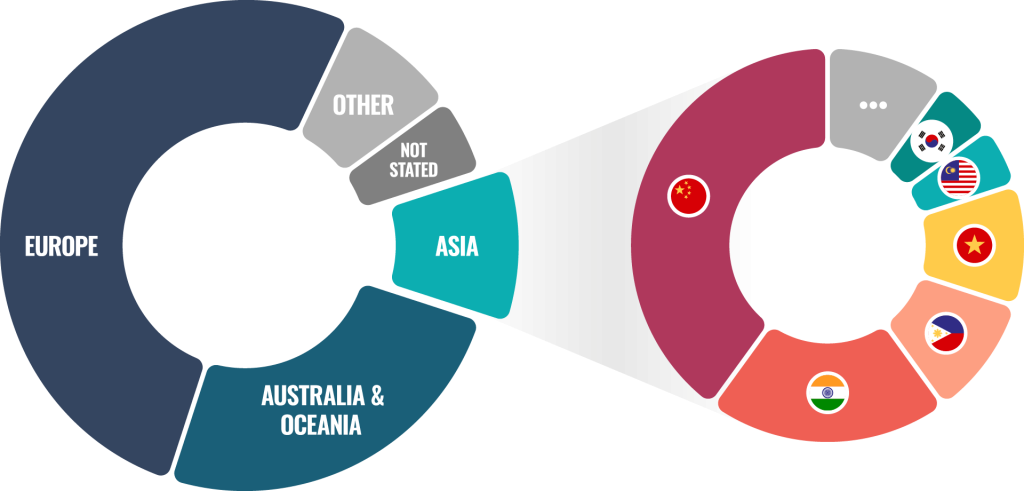 But terms like 'Asian Australian' cover a multitude of backgrounds, ethnicities and religions. In 2019 it was estimated that the Chinese community in Australia numbered over 1.2m, twice as many as the next-largest Asian group, which was those of Indian descent. Other significant minorities of Asian Australians trace their ancestry to the Phillipines, Vietnam, Malaysia and Korea, all contributing to Australia's rich cultural melting pot.
Asian-born Australians are younger and tend to stay in education longer than other Australians. In 2016, the Asian-born population in Australia had a median age of 35 years, whereas people born in Europe had a median age of 59 years.
How do I find Asian singles near me?
Most significant Asian communities in Australia are, unsurprisingly, based in or near the biggest cities. The largest community is in Sydney, with roughly 28% of Australian's Asian population there, but those seeking Asian dating Melbourne (24%), in Perth (18%), Brisbane or Adelaide will also find major population centres.
How to choose an Asian dating site
Asian dating can be complicated. There's no simple answer to the type of people you might find on a dating site for Asians: the community is so diverse in nationality, religion and cultural outlook that almost any attempt at defining it leads to stereotypes.
And there can be a major difference in social and cultural attitudes between Asian singles whose families have been in Australia for generations and those who are first-generation. But you may well find people who share your religious views (or lack of them), or share a love of certain food cultures. Or you might wish to date Asian singles for any number of other reasons. There's really nothing wrong with wanting to date someone who shares your values, or religious faith. But there are good arguments to favour some Australian Asian dating sites and apps over others.
Why eharmony rules for Asian dating
Sure, you could go and try your luck on a free Asian dating site. But with an eharmony Premium membership, we offer something better. eharmony has a huge and diverse membership with users from all sorts of backgrounds who have one thing in common: they're looking for a lasting, loving relationship.
Our unique Compatibility Matching System means you'll be matched with people we think you'll click with from the start – those who share your values and whose personality traits complement your own.
You can also narrow down your preferences as much as you wish, whether that's about age, location or education level. You can even tell us what sort of Asian singles you'd like to meet, whether it's Chinese, Indian, Vietnamese, Malaysian or all of the above. Or, if you prefer, you can search our members all over the world.
At eharmony, we aim to give you a deeper connection that keeps the spark in your relationship whether it's your first date or you've been together for years.
Sign up for free and see your matches today
You can join eharmony for free right now and check out your matches. But first of all, we'll ask you to take our Compatibility Quiz – your answers to this tell us what type of person you are and the sort of partner you'll be compatible with.
Then you can begin communicating with your matches and we'll let you send that critical icebreaker for free to kickstart your communications with Asian singles. Register today and find out who's out there for you.
How Asian dating works with eharmony
Your search for a great relationship has never been easier with groundbreaking overhaul of the eharmony you know and trust.