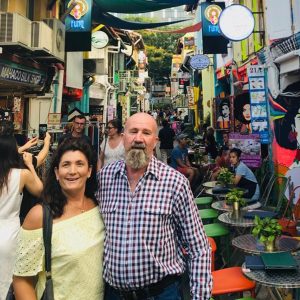 Deborah & Eric
Brisbane, Queensland
Married October 10, 2015
We matched back in 2011 and we chatted online until we could meet in February 2012, as Eric worked in Northern Territory. It was love at first sight for him, while I was a little unsure. He proposed in April 2012, and we married on October 10th 2015 after a lot of road testing, and paving our way through the blended family process (we have six kids, and now eight grandchildren). 
When I first saw Eric's profile picture, I thought it was god-awful – a great, big, hairy-bearded man! What was the attraction? I wasn't sure. However, he was persistent and we met face-to-face after speaking and messaging for three months! For our first date we had coffee together, we were both nervously excited; he did most of the talking (I'm not a big talker). After what was a really pleasant morning, and before I went back to work, he asked if he could pick me up on my lunch break where he then took me out for lunch! I was hooked. My friends called him "Deb's Bushman" and he was: he comes from the bush and lives a simple life, which was very appealing to me. It took me a week to let him know where I lived, and the rest, after that, is history.
We are such good mates, and we bring out the best in each other. I had never known love as I do today with Eric. He'd been through a very painful, messy break up in his first marriage and there were huge barriers to get through, but I knew deep down there was a wonderful man there with so much love to give. He's very grounding for me and keeps life so simple – what a wonderful relief. It was city meets country, and wow, what a match.
Our first milestone was having our family blended happily. This took three years to achieve, and as soon as we felt we had harmony, we planned our wedding, and it was a wonderful day. Another milestone was our first overseas trip together this year. Neither of us had travelled, and together, we celebrated my 50th birthday in Singapore. It was a trip we will never forget. We enjoy our grandchildren together, and we could not imagine life without each other.