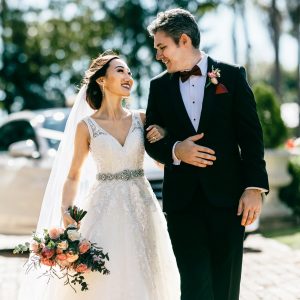 Peony & Mitchell
Wollongong, Australia
Married May 4, 2019
Meeting someone online was something that I never really believed in, but it worked like magic for us on eharmony. After dating for years and unable to find my "Mr Right", I decided to give eharmony a try. Mitch was the first person that I met up with in real life, and the rest is history, I guess. Now we're married and have our own little family, I'm happier than I've ever been in my life. Without Mitch, I don't feel whole. It was like a match made in heaven for us – I'm so glad I tried eharmony and found the love of my life.
Our first date was nothing fancy. Mitch wanted to meet up in the city for a coffee, and the cafe he intended to meet me in wasn't open on Sundays. We ended up having a coffee in QVB (in Sydney) and five hours later, we were still chatting with each other. Now we go back to that Japanese restaurant where we had our first lunch together every year.
I guess what we found in each other was someone that wants the same things and shares the same goals in life. We had our ups and downs, but in the end, it was working towards the same destination and having the same goals that got us where we are today. When you love someone, you simply just don't give up and let go.