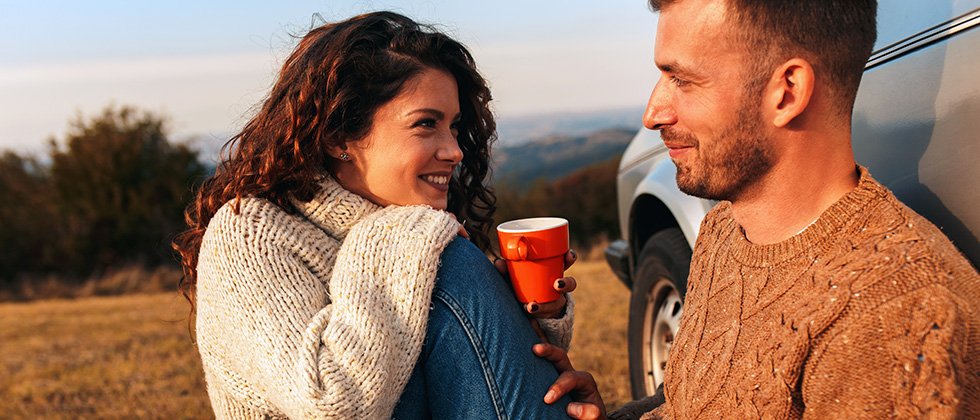 Compatible profiles: what are they and why do they matter?
Curious about compatibility but not sure how it all works? For the first time, eharmony is revealing some of the secrets of our matching process with compatible profiles
Here at eharmony, we're all about compatibility. We've spent more than 35 years conducting research in order to find out exactly what goes into creating happy couples, and the results show that having shared values and personality traits is crucial. So, to make it easier for you to find out whether you're compatible with someone or not, we're unveiling some of the secrets of our matching process on your profile!
Compatible profiles vs. standard matches
We believe – and all the evidence tells us – that if you're compatible with your partner then you'll have a happier, healthier relationship. But we don't want to limit your options. That's why you'll see two difference types of profiles in your match pool: compatible profiles and standard. Standard matches are people that meet the selective criteria that you've told us are important to you in your Relationship Questionnaire: height, age, location etc. But, if you're looking to find someone who is truly right for you, then you'll want to pay special attention to the profiles highlighted with the green 'compatible' banner.
But why are they right for you?
Don't just take our word for it; for the first time, we're revealing some of the secrets of our algorithm so that you can see exactly why we've chosen your matches. 18 of the values and traits that we've found make the most difference to your relationship are now displayed on your potential date's profile – and each factor has a percentage score that shows exactly how aligned the two of you are.
If monogamy is important to both of you, for example, then you'll likely score 100% for Exclusivity. But, if they would never skip the gym and you prefer staying in on the sofa, then you might find that you only see a 65% compatibility score for Athleticism. It's a quick and easy way for you to see why we think you'll be a good fit with your match and help you to decide which traits and values matter most to you.
The 18 dimensions
Take a look at the full list of traits and values that feature on your profiles to get started – along with a quick definition:
Accommodation
The drive to understand, respect and accommodate differences of opinion.
Affectionate
Your tendency to feel and show your love with partners.
Agreeableness
Being kind, sympathetic, cooperative, warm and considerate.
Alienation
A tendency to be in a negative emotional state.
Altruism
How important it is for you to help others.
Athleticism
Being energetic, athletic and keeping physically fit.
Conscientiousness
Being diligent and organised as opposed to easy-going and disorderly.
Emotional Intimacy
Feeling comfortable sharing personal thoughts and feelings with others.
Emotional Stability
Not being easily or deeply upset by others.
Exclusivity
How important you feel it is to only have one partner at a time.
Extraversion
Enjoying large groups of people and being centre of attention.
Intellect
How clever and intelligent you think you are.
Obstreperousness
The degree to which you are dominant, opinionated, and quarrelsome.
Relationship Values
The importance you place on having a happy, healthy relationship.
Religious Values
The importance religion and religious values are in your daily life.
Romantic
How important romance and closeness are to you in a relationship.
Physical Intimacy
The level of importance placed on the physical aspect of a relationship.
Social Values
The importance you place in having friends.