After registration, every new eharmony member completes the Compatibility Quiz, a series of 80 questions that takes a deep-dive into your personality, values and what's important to you in a relationship.The quiz questions vary from straightforward issues around your likes and dislikes to those designed to tease out your underlying motivations and behaviours in a relationship. But
WHAT IS THE EHARMONY COMPATIBILTY SCORE?
Your quiz answers allow us to compile your unique Personality Profile and generate your eharmony Compatibility Score – which instantly shows how compatible you are with each individual match. Your score, therefore, is not a fixed number but will vary from match to match depending on your mutual compatibility.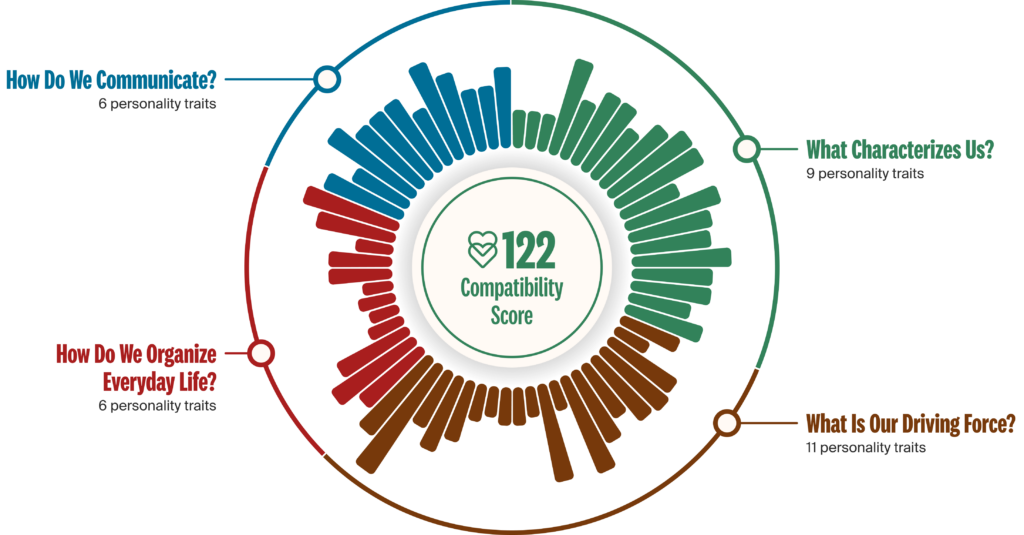 You can find your Compatibilty Score in the top left corner of each of your matches.
What is the eharmony Compatibility Score range and what does it mean?
But how can you tell what is a good Compatibility Score on eharmony? Our compatibility points system, which ranges from 60 to 140, is based on you and your matches' combined Compatibility Quiz results and preferences. Overall, it will indicate how well you and any one of your matches will get along. Makes it easy, right? But, before you dive in, we should explain what each range of scores mean.
Score: 110+
An off-the-charts result and up there with the highest eharmony Compatibility Score! You and this match could get along extremely well and should definitely get to know each other. If you share this Compatibility Score with someone, we highly recommend that you send them a message – and hopefully follow up with an amazing first date.
Score: 100-109
If you get a 100 or higher on your eharmony Compatibility Score scale, then we encourage you to get in touch with your match. Take a quick look at their profile and send a message about something you have in common.
Score: 60-99
You have a base-level eharmony Compatibility Score with this match and we recommend you get to know them further. Take a look at your "Matching Result" tab and learn what areas you both have in common. If you think you two have potential, send a Smile or an Icebreaker.
eharmony Compatibilty Score: discover yours' today
Now that you understand the eharmony Compatibility Score range and what it means, it's time to take the plunge. So why not register, take the Compatibility Quiz and find out who's out there waiting for you?
If your friends were asked to describe you, what they would say? The traits listed here evaluate your level of empathy, your logic vs. instinct and your amount of self-control. In this section of the Compatibility Quiz we want you to answer honestly because what you say will directly affect your personality profile and ultimately your matches.