You registered, took the Compatibility Quiz, and have been given all your matches … now what? How do you sort through your match list and determine which ones you're most compatible with? With eharmony's matching system, we are able to determine your compatibility with others and have converted them into points. Your compatibility points can be found on the top right-hand corner of each of your matches. Our compatibility points system, which range from 60 to 140, are based on you and your matches' combined Compatibility Quiz results and preferences. Overall it will indicate how well you and any one of your matches will get along. Makes it easy, right? But, before you dive in, we should explain what each range of scores mean – let's break it down…
Score: 110+
This is an off the charts matching result and should be treated that way! You and this match harmonize super well and should definitely consider getting to know each other. If you share this compatibility with someone, we highly recommend that you send them a message – who knows this could lead to an amazing first date.
Score: 100-109
If you and this match received a 100 or higher in eharmony compatibility points, then you two are very compatible and we encourage reaching out. Take a quick look at their profile and send a message about something you have in common. Maybe you both are foodies – ask them what their favorite new restaurant is or what they like to cook.
Score: 60-99
You have a base-level compatibility with this match and we recommend you getting to know them a little more. Take a look at your "Matching Result" tab and learn about what areas you both have in common. If you think you two have potential, send a Smile or an Icebreaker.
What Are You Matching Me On? Or Our 4 Aspects of Compatibility
Communication Styles or How You Communicate
Communication is essential for any successful relationship. By taking the Compatibility Quiz, we're able to match you with people who will complement your style of communication. We determine this by looking at the types of messages you received from your parents or guardians as a child and how that affects you now.
Within our Matching Result tab, you can click on each communication style individually and learn more about it.
Your Everyday Life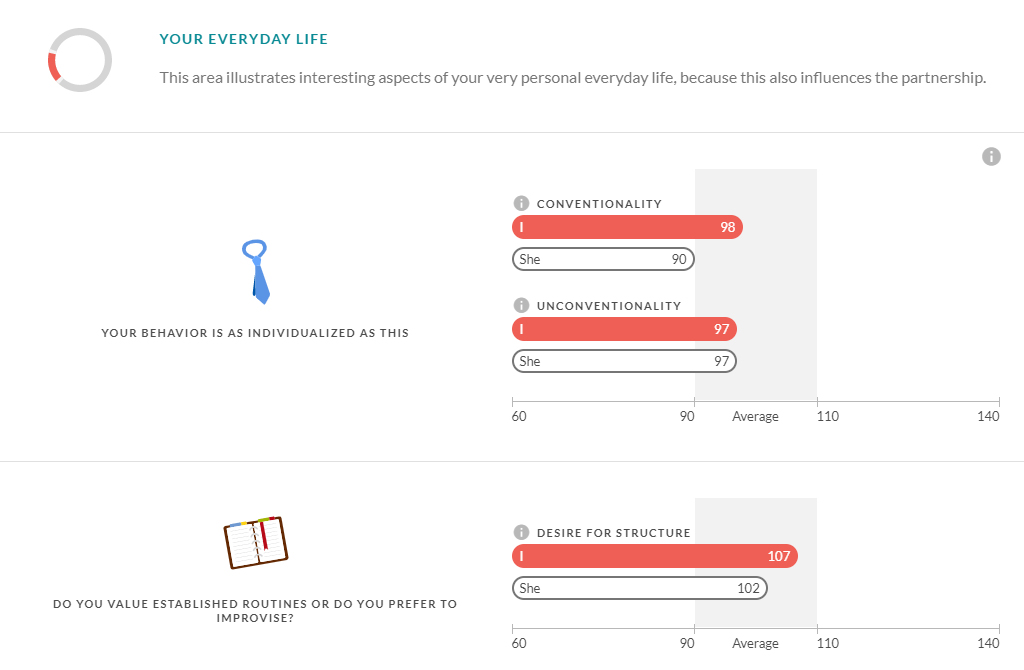 When looking for a partner you want someone who can fit into your life seamlessly or makes life easy. Whether it be sharing a daily schedule or agreeing on specific life choices, harmony is very important. Sometimes a simple thing like both working similar schedules can make a difference. Given that, here's what we match you on:
Domestic vs. Adventurous
Active vs. Sedentary
Conventional vs. Unconventional
Routines vs. Spontaneity
How You Behave in a Relationship
Life is all about balance and this area measures how you react to your environment and different people in your life. Do you see the glass half full or half empty? Are you more of an introvert or an extravert? These are some questions that help us match you with members who will create the perfect balance in your relationship.
Personality Traits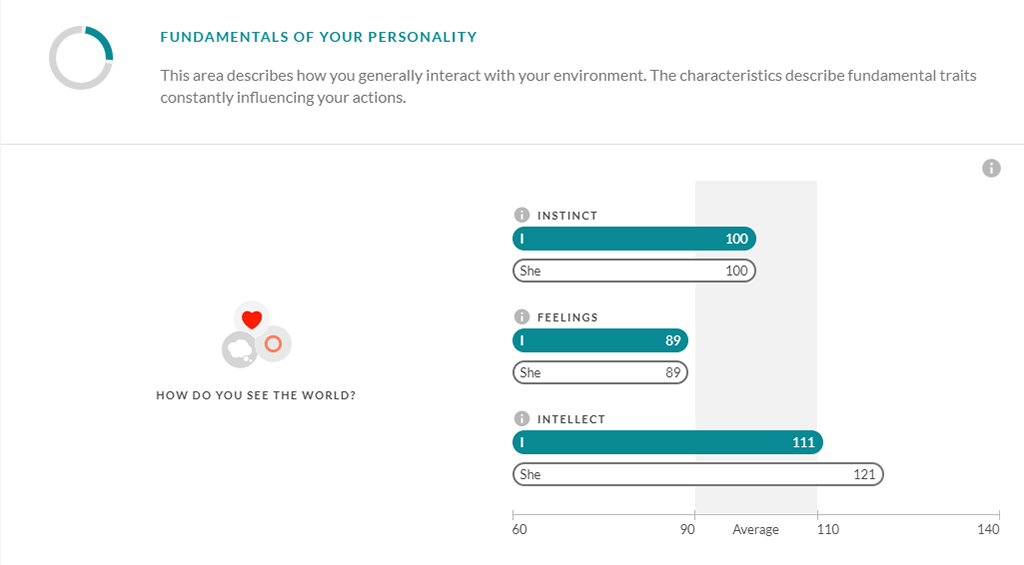 If your friends were asked to describe you, what they would say? The traits listed here evaluate your level of empathy, your logic vs. instinct and your amount of self-control. In this section of the Compatibility Quiz we want you to answer honestly because what you say will directly affect your personality profile and ultimately your matches.