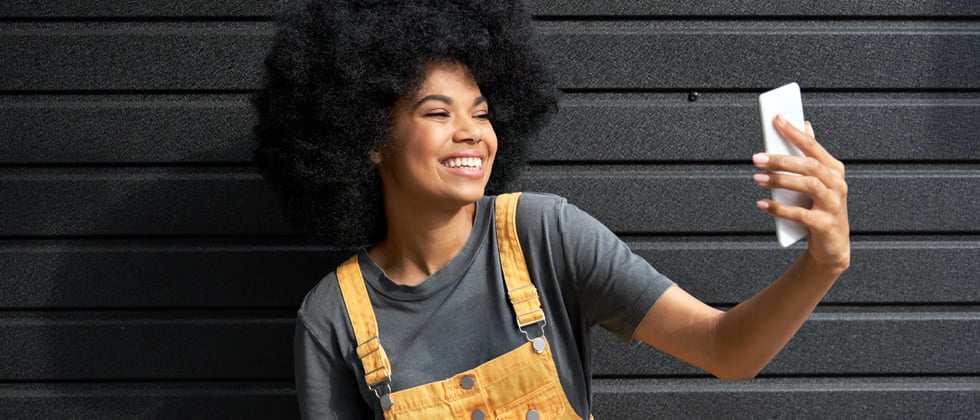 Let Your Dating Profile Pictures Do the Hard Work for You
by Julia Steding
-
November 22, 2023
Dating profile pictures are probably your chief consideration in online dating. They're like the opening statement of your dating efforts. And it's difficult to figure out which photos best highlight not just your physical appearance but the general energy you'd like to put out to attract the right people.
What people misunderstand about these photos is that they shouldn't serve to be an idealized image of you but a small window into the physical you and what exists beneath. So, let's look at some best practices for dating app pictures, how to tell your story through these snapshots and some common mistakes to avoid.
Our top 10 tips for dating profile photos that get noticed
We've been in the online dating game for over two decades and in that time we've seen which dating profile pictures work and which don't. Here's a selection of our most important tips for them.
1. Make sure you're front and center in dating profile pictures
Make sure people know what you look like right from the get-go. This means not including group shots or low-quality pictures that obscure your face. The image you want to put across is one of honesty and self-assurance.
2. Show the full you
This doesn't mean you have to get your swimsuit out. But rather that you should have some shots that show your full body so people can get a better idea of your general appearance beyond your face.
3. Make sure you have enough photos
While a lot of people think they can get by with three photos, the general recommendation is at least 4-6 photos.
4. Don't overdo it on selfies
Having a couple of selfies is natural on a dating profile but make sure it's not your full roster as it can make you seem egotistical and like you don't have anything else going on in your life. You want your profile to tell a story, but selfies are narratively neutral.
5. Upload some travel and action shots
People want to see how you engage with the world and how you look in more natural poses. So, try to include some dating profile pictures of you around your city – for example your favorite coffee, on some of the overseas adventures and you enjoying your favorite activities so they can understand you more three-dimensionally.
6. Dress up
You want to come off natural in your photos but not like you're not trying either. So, ditch your most comfy Sunday t-shirt and try to dress up a bit for your photos. No need for a three-piece suit but try an outfit that you'd actually wear on a date.
7. Drop the filters and go for better lighting
Filters are very easy to spot and are a particular pet peeve for online daters. And it isn't even as effective as having good lighting. There's no point in guarding your appearance if you're looking for a genuine connection so rather show off the real you in the best possible light.
8. Smile
Your dating profile photos should put out a positive energy so that people feel enticed to connect with you, so try to include some photos of you smiling and making direct eye contact with the lens. This helps prospective singles relate to you better and puts out a more optimistic image.
9. Try switching out dating profile pics
Sometimes, the photos you picked just aren't working for you. We tend to be bad judges of our best photos so it can sometimes be difficult. Try switching out photos every couple of weeks and see if you get more engagement from people.
10. Have one close up
The close-up is a dating app essential. People more than anything want to get a good idea of your face. This can be a vulnerable moment but stand by your appearance and let them see you in all your beauty and faults. Just remember the lighting tip!
A handy list of dos and don'ts
To make a strong first impression, it's also helpful to know the dos and don'ts of selecting and presenting these images effectively.
Dos of Dating Profile Pictures
Here are some good ways to polish up your profile and dating app pictures.
Get your pets involved. Photos with dogs and cats are shown to have higher response rates. And you likely already have dozens of photos with your pet in your camera roll.
Include some context in the captions like the date of the photo and location, for context.
Make sure you're well-groomed in your photos. Maybe wait until haircut day to snap some photos.
Include life details in your photos. Pictures around your house or doing your favorite activities.
Don'ts of Dating Profile Pictures
Here are some common pitfalls to avoid in your dating profile pictures.
Don't have a messy or distracting background. Not only does it distract from the central feature, you, but it also just puts people off from an aesthetic perspective.
Avoid using filters entirely. A recent survey found that 73% of online dating users would like touched ups pictures banned from dating sites1.
Pictures of you with alcohol in the background, smoking and even vaping were seen as a huge turn-off in the same survey.
Don't let shirtless pics into your profile gallery. Like selfies, these can tend to come across as narcissistic.
The 3 most important questions when it comes to dating profile pictures
Now let's get into the technicalities of the ideal profile pictures by answering the most common questions people discuss online.
1. What photos should I put on my dating profile?
You want a good variety of shots. At least two should be well-taken and lit shots that show off your best physical side. Then you try adding two or three of you doing activities or just indulging in your passions. And even though we said you should avoid selfies and filters, having one or two of them won't hurt your chances. For instance, black-and-white shots get good reception from members.
2. What should the first photo be on a dating profile?
Your first photo has to be your most flattering one. This is what's going to get them to click on your profile and explore your compatibility more deeply. Ask your friends and family for their opinion because it can be difficult to be objective about your photos sometimes.
3. How to take a good dating profile picture?
Beyond the lighting advice, angles are also a factor to consider. In general, high-angle shots tend to be more flattering than low-angle shots, but make sure it's not too high. A good rule of thumb is to hold it at around forehead height. Block colors in your clothing also create an engaging contrast that has been shown to increase engagement on apps.
Let your dating profile pictures express the real you
Really, the key to really good dating profile pictures is balance. People obviously want to see you showing off your best side, but they also want to see the other sides too. Your life, the things you enjoy, the people and pets you connect with, the precious experiences you found worth capturing all paint a fuller picture of who you are, beyond your looks. But this doesn't mean you shouldn't curate it to be a vibrant tableau of your life that is maybe glossy, and narrative based.
At eharmony, we help connect based on attraction as well as the deeper aspects of compatibility. So, try out your selection of profile pictures on an eharmony today.
How it works
Your search for a great relationship has never been easier with groundbreaking overhaul of the eharmony you know and trust.