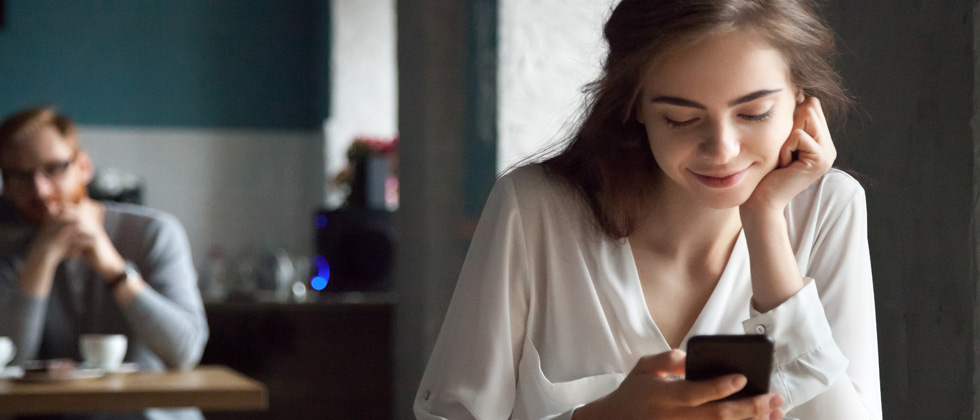 Finding a woman: seven simple ways to get closer
It's a common refrain among single men of all ages and backgrounds – why is finding a good woman so hard? Although there are plenty of them out there finding one can be difficult, for a variety of reasons. Perhaps you're looking in the wrong places, or your online dating profile is accidentally emitting 'don't date me' vibes. Whatever the reason, in this article you'll find a handy guide to make looking for a woman easier.
How to find a good woman
When it comes to finding a woman to spend the rest of your life with, just sitting back and wishing won't do it. Some tips for anyone looking for a woman:
1. Be a man a good woman would consider worth dating.
'I'm a nice guy, why won't anybody date me?' You're nice, that's great. What else have you got to offer her? Are you fun to talk to? A good listener? Can you cook dinner or help her around the house? The best way to attract a woman isn't to be nice, it's to be a better option than a glass of wine and a romance novel, so work on improving yourself even as you search.
TIP: Figure out what your personal and professional goals are, then work on achieving them.
2. Figure out what you want.
Happy relationships aren't all alike; people have different likes, dislikes, and goals, and relationship preferences. It's best to take some time to figure out what yours are, both so you can focus your search on finding a woman with similar values and so you don't waste time with someone incompatible. You don't, for instance, want to spend six months with someone before realizing she doesn't want kids and you do.
TIP: If therapy feels excessive or too intimidating, a good self-help book or even keeping a diary can help untangle your brain.
3. Give a connection time to form
The idea of love at first sight, or instant chemistry might be widespread but finding a good woman doesn't necessarily work like that. You might well find that your connection is stronger the more time you spend together, so don't lose hope if your first date isn't as good as you hoped it might be.
TIP: Give it three dates before you pull the plug, ideally different kinds. The additional time together will help you judge whether she's a good match for you.
4. Actually look.
There will be times in your life when a relationship just isn't a priority, and that's okay. However, if finding a woman is something you want, then you need to put in the time and effort. Carve out time to set up an online dating profile and browse profiles; set aside time and money to go to places you might run into other single people. In many ways, dating is a numbers game and the more time you spend actually looking for a woman, the better the odds you'll find her.
TIP: Give yourself a weekly target of profiles to look at, or people to ask out.
5. Ask friends and family
Asking friends and family used to be one of the only options for single men and women to find life partners. The advent of online dating hasn't changed the fact that it's a good one – the people who love you know you, after all, and more importantly, want you to be with someone who's good to and for you. So ask them, and cast the net even further – mention in conversations with friends that you're looking for someone. You never know where lighting might strike!
TIP: Go over your preferences with anyone you're asking for matchmaking help, so they know what kind of person to set you up with.
6. Step out of your comfort zone
When it comes to finding a woman, it's important to look in places you usually wouldn't, the better to increase the number of potential partners you actually meet. Even if you don't find her, you might just wind up with a new hobby or a bunch of new friends!
TIP: Look for events happening in your locality and make it a point to attend even those you wouldn't ordinarily go to.
7. Spruce up your online dating profile.
If you're looking for a woman, online dating is a great idea – you're no longer restricted to your neighborhood or even your city when it comes to finding a potential partner. And even better, you can choose the first impression you make, from what's on your profile page to the photos you post, so take advantage and create one that shows you in your best light.
TIP: Have a social-media-savvy female friend go through your profile with you so you can see how it looks like to any potential dates.
Finding a good woman is easier with eharmony
With how many fish there are in the sea, the prospect of finding a good woman can be daunting, even with the tips in this article. Which is why eharmony is such a great option. When you sign up for eharmony, you'll find a large pool of singles who're also looking for serious relationships, on a site designed to create them. What's more, our unique Compatibility Matching System ensures you're paired with people you have greater odds of connecting with, right from day one. So join eharmony and get started on the path toward love today.
How it works
Your search for a great relationship has never been easier with groundbreaking overhaul of the eharmony you know and trust.